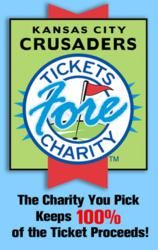 Overland Park, KS (PRWEB) July 11, 2012
The Midwest Classic is one of 26 events on the PGA TOUR's Nationwide Tour schedule for 2012. It will be held August 13-19 at The Nicklaus Golf Club at LionsGate in Overland Park, Kansas. The event will draw 156 Nationwide Tour professionals from as many as 20 countries vying for one of the 25 PGA TOUR cards that will be awarded to the leading money winners at the end of the year. Also visiting Johnson County during tournament week will be the players' families, caddies, Pro-Am participants, corporate guests, television crews, Tour staff members, volunteers and thousands of spectators.
™
The Midwest Classic, through the Mr. Goodcents TICKETS Fore CHARITY™™™™™™™™™™™ program, will donate 100% of all ticket sales to local charities including Project Walk-Kansas City. In addition, Project Walk-Kansas City will also earn a percentage of the Bonus Pool, which will be distributed evenly among the participating non-profits based on the program's total ticket sales. This is an exciting and unique event for Johnson County and we are thrilled to be able to offer tickets as a great way to enjoy an incredible week of golf, concerts, clinics and nightly entertainment while supporting a great cause!
Tournament Ticket Prices:
*Weekly Grounds Pass: $25-Permits access to the tournament grounds all week as well as concerts, clinics, and evening entertainment.
*10-Pack Weekly Grounds Passes: $200 (discounted rate)
*30-pack Weekly Grounds Passes: $500 (discounted rate)
Tickets can be purchased at http://www.midwestclassic.com. Once there, Project Walk-Kansas City can be selected as your charity of choice and 100% of your ticket sale will help people with spinal cord injuries. Thank You!
Project Walk-Kansas City is an Overland Park, KS based company that provides an aggressive, exercise-based spinal cord injury recovery program to people suffering from spinal cord injuries. Founded in 2008 and formerly known as Quest to Walk, Project Walk-Kansas City is the only non-profit facility of its kind in the Midwest. For more information, please call 913.451.1500 or visit http://www.projectwalk-kansascity.org.