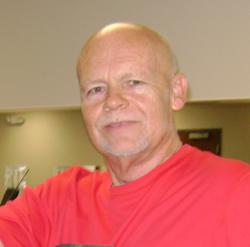 Overland Park, KS (PRWEB) August 30, 2012
Thomas Eddy, with Project Walk-Kansas City (PWKC), was invited to speak to the rehabilitation department at Children's Mercy Hospital, on August 17th, to discuss the benefits of PWKC's recovery program. More than 30 members of the healthcare field were present at the presentation, which was also part of a Children's Mercy network wide webcast. Children's Mercy is one of the top children's hospitals and its pediatric facility is one of the largest in the country. Mr. Eddy was invited because of his personal experience as someone with a spinal cord injury. During his visit, he wanted to stress that Project Walk's exercise based recovery program does not compete with traditional physical therapy, rather when the two are combined, it offers an aggressive approach at recovery and a better quality of life. Much of PWKC's equipment has been modified to enable each client to workout in a safe, gym-like setting. Nearly all of the exercises done at PWKC require the clients to be out of their chairs and are typically done in various load-bearing positions.
Anybody suffering from a spinal cord injury will tell you his or her ultimate goal is to walk again someday. And even though the potential for this to happen is the big picture goal behind the recovery program at PWKC, it isn't the main focus. The main idea behind the program is that the nervous system can heal and the muscles can be strengthened and coordinated. The program is designed to help the nervous system recover and ultimately help each individual client regain as much functional control over his or her body as possible; hopefully to the point of being able to walk again. Other areas of improvement, that PWKC's clients experience, are increased circulation, improvements with their bone density, and better balance and coordination. Results vary from person to person, however every single person within the Project Walk network, with a spinal cord injury, has shown an improvement in overall health and wellness.
PWKC goes beyond traditional physical therapy and offers hope to those with spinal cord injuries to meet their goals. "Will I ever walk again?" That's a question that can only be answered by---if you never try you will never know. Many who were unable to walk are now doing just that.
Project Walk-Kansas City is an Overland Park, KS based company that provides an aggressive, exercise-based spinal cord injury recovery program to people suffering from spinal cord injuries. Founded in 2008 and formerly known as Quest to Walk, Project Walk-Kansas City is the only non-profit facility of its kind in the Midwest. For more information, please call 913.451.1500 or visit http://www.projectwalk-kansascity.org.