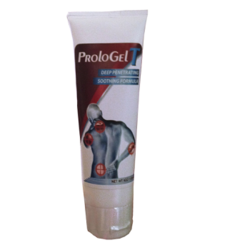 "I have patients who call ProloGel a miracle cream," said Dr. Howard Rosen.
Monterey, CA (PRWEB) December 26, 2012
ProloGel, the first topical pain relief of its kind, announces it is now available to consumers for purchase online, and in offices nationwide. This solution relies on a time-tested procedure, where a solution is introduced to an injury site, stimulating the body's own healing mechanism, and providing relief from chronic pain.
ProloGel was developed by Howard Rosen, M.D, a board-certified, practicing doctor of pain management. In his years of administering prolotherapy treatments he had found that while effective, patients shied away from the injections. After extensive research, Dr. Rosen created a solution that could effectively penetrate to the subcutaneous layer, with or without the aid of ultrasound. He began testing his formula on patients with great success – patients routinely reported significant or full pain relief.
"I have patients who call ProloGel a miracle cream," said Dr. Howard Rosen. "One woman came to me with a wrist ganglion – she'd already had it surgically removed, but it had come back. I administered ProloGel with ultrasound. After the first treatment, the ganglion was reduced more than half its original size; after two more treatments, the ganglion was gone, and it hasn't returned in the year since I treated her."
During his research, Dr. Rosen documented ProloGel treatment results in fifty patients whose pain problems included upper back, lower back, failed low back surgery, neck, wrist, elbow, hand, knee, leg, shoulder, and ankle pain. Based on a scale of 1-10, where 10 is the worst pain imaginable, the average pain score for the fifty patients fell from 7.1 down to 2.3 – after only one treatment. Over 75 percent of the patients found significant pain relief (defined as 50 percent or greater pain relief) after just the first treatment. ProloGel is currently available for purchase at the company's website, and comes with an empty-bottle money-back guarantee.
About ProloGel:
As a result of being involved in a serious car accident in 1997, Dr. Howard Rosen was hospitalized for several days, having sustained a neck injury. Experiencing no relief from oral pain medications, he began to explore other methods of relief. He found prolotherapy, a method of injecting a solution at the injury site to stimulate the body's own healing mechanism and provide relief from chronic pain – to be effective. Seeking an alternative to injections, he built upon the notion that it was possible to deliver prolotherapy solutions to the subcutaneous layer without the use of needles. Settling on ultrasound as the most practical means of delivering a solution, he then tried several different solutions to deliver pain relief. Utilizing prolotherapy solutions in a gel form, ProloGel is the result of Dr. Rosen's research.
ProloGel is an effective treatment for many types of pain, and can be used with or without ultrasound. ProloGel is available for purchase online at http://www.ProloGel.com, and comes with an empty-bottle money-back guarantee.