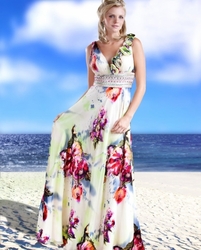 New York, NY (Vocus) May 12, 2010
For those who still haven't had their prom, time is running out. Now it's just a matter of weeks and days, so if you haven't found that special dress don't panic. With a huge selection of prom dresses and gowns suitable for all sizes and body types, Jovani Fashions has come to the rescue. It's not too late to recreate the ideal prom; however, there are a few helpful tips that can make the prom preparation process a whole lot easier.
It all starts with the dress. Before going out and searching for the fantasy prom dress, think about the different styles and silhouettes. Look through fashion magazines, even prom magazines and websites to get ideas. Decide from a diverse selection of necklines that include halter tops, strapless sweetheart, one-shoulder and spaghetti straps. Next, think about which style will be most flattering, such as empire waist for larger hips, body-hugging styles for slimmer hour-glass frames, as well as mermaid for those tall and slender types. Once a style is decided upon, go to jovani.com and browse through all the dress collections for 2010. Once an eye-catching dress is spotted that meets all the selected criteria, contact a local Jovani retailer to try the style on! Simple as that.
The second step would be to decide on a hairstyle and makeup shades. Work the hair to match the dress. For intricate and embellished necklines, choose a simple up-do so that no attention is taken away from the dress. When it comes to strapless necklines and spaghetti straps, wearing loose flowing hair or straight and sleek is an option. Don't just wing it the day of prom. Take time to research different hairstyles, and even have a trial one week before to see how it will turn out. Makeup shades should also be planned ahead of time to avoid any last minute stress on prom day. Light and shimmery eye colors are great for summer looks, especially when wearing multicolor and vibrant print dresses. With simple solid color dresses, play up the eyes with dark liners and smoky shadows. Choose to accentuate one facial feature, so play with different lipstick colors and rosy blush colors to see which element pops the best.
The final, and sometimes the most fun step in the prom preparation process, is accessorizing. From the shoes, to jewelry pieces and matching clutch bags, the possibilities are endless. Dress up a simple look with glamorous accessories such as lots of jewelry or a jeweled purse. For busy styles, keep it simple with minimal to no jewelry. They say shoes are a girl's best friends, besides diamonds of course…so go all out with sexy sandals or platform pumps to truly complete an eye-popping look.
Now is the last chance to find the prom dress of your dreams. Contact a Jovani retailer today.
Company
Jovani Fashions is a long-time time women's designer and a top name in formal wear. From exquisite gowns to fun and flirty prom dresses, Jovani's extensive collection for 2010 offers something for every preference and style. Dare to stand out in the crowd with a uniquely embellished dress that's not only elegant—but stylish and fashion-forward. Classic sophistication mixed with trend details and flattering styles is what makes Jovani a favorite choice for all those special occasion needs.
Contact: Nazy Rafaeil
Phone: (212) 279-0222 Ext. 181
###