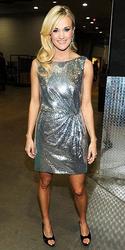 New York, NY (Vocus) May 18, 2010
With many years of experience as a top name in women's formal fashion, Jovani has mastered in creating the perfect special occasion dress. From prom dresses, to flirty short dresses, evening gowns and red carpet couture, Jovani offers something for all styles and body types. Made from the most luxurious fabrics, each Jovani design is unique with meticulous embellishments and fashion-forward styles. Never before has black-tie attire been so elegant AND trendy chic.
It's no wonder major celebrities like Carrie Underwood and Taylor Swift have requested to wear Jovani to red carpet events, as well as for performances. With Jovani's recent launch of a new contemporary separates line, JVN, young stars have begun to sport the designer pieces for casual outings. Just ask long-time Jovani fan Carrie Underwood, who has fallen in love with the brand's sparkly minis and was recently gifted with some of her favorite pieces that include short cocktail dresses and JVN styles 158031, 158101, 155118, 8318, 8474, 151648 and 156694. Be the first to spot the country vocalist out and about in Hollywood, or even on her honeymoon, wearing these eye-catching Jovani designs.
Until then, fans can look forward to watching Carrie perform in Jovani's silver sequined short dress, style 159126, on the all-star tribute special ACM Presents: Brooks & Dunn—The Last Rodeo. Brooks &Dunn are currently crisscrossing the country on what is officially their last rodeo tour. The special concert will air this Sunday, May 23rd at 8:00 PM ET on CBS, and it will also feature performances from country artists such as Taylor Swift, Kenny Chesney, Tim McGraw, Faith Hill, Keith Urban, among others.
From elaborate gowns to bubbly cocktail dresses, Jovani can make any girl look red-carpet-ready for those memorable occasions. Now that summer's almost here, it's time to start thinking about all the upcoming warm weather events. Choose from a variety of lightweight styles, such as flowy chiffon short dresses and soft-colored lace for a beautiful and breezy look. Feel confident and wildly gorgeous with every graceful movement of a Jovani dress. This is a chance to truly shine with a head-turning look that will leave others in admiration and envy.
Let's not forget about homecoming. Girls, it's never too early to start planning and searching for that flawless homecoming dress. Contact a local Jovani retailer today.
Company
Jovani Fashions is a high-end fashion house that designs and manufactures women's formal wear pieces and special occasion dresses. As an internationally recognized name, Jovani's extensive collections of exquisite evening gowns, cocktail dresses and prom styles, not to mention designer separates, have been highly regarded by top fashion editors and celebrity stylists. The unique mix of classic sophistication with trendy details makes Jovani a truly unique brand.
Contact: Lianne Gourji
Phone: (212) 279-0222 Ext. 111
###