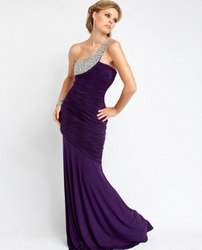 New York, NY (Vocus) April 2, 2010
The pressure is on now that prom is just weeks away. Between finding the perfect dress, to the right accessories and suitable hairstyles, there isn't much time to spend browsing the racks of various department stores and dress boutiques. It's time to take a breather and be relieved of all that pre-prom stress. Jovani is here to help.
Jovani offers a variety of dresses, each unique in its own right. With different necklines, hemlines, bead embellishments and exotic animal prints, here's the chance to stand out and make a statement. Flowy chiffon dresses and vibrant floral prints are perfect picks for any spring prom. Complete the look with glamorous accessories, along with suitable hairstyles and makeup shades. Check out Jovani's online styling tips page for expert suggestions on how to prep for the big night.
Expect to see lots of vibrant prom dresses, this season, especially wild exotic animal prints and chic floral patterns. Lace is also the biggest trend this season, and will continue throughout the spring and summer seasons. No longer are girls limited to long gowns and poufy ball gowns. Now more than ever before, short cocktail dresses and minis are a popular pick for junior and senior proms. Jovani's exclusive collection of short and cocktail dresses features a variety of trends and styles, including tulle-layered wire hem skirts, sequined strapless necklines, chain details and much more! Leave a lasting memory by wearing any of these cool and stylish designs.
The fabulous collection has been featured in top magazines, including Teen Vogue, Seventeen, Prom Guide, US Weekly, The Daily News and more. Not to mention, OK Magazine's exclusive article on Taylor Swift's Jovani gown in her "You Belong with Me" music video. Jovani's latest prom collection is so versatile and elegant that celebrity stylists have chosen to dress top Hollywood A-lists for the red carpet in some of the gorgeous designs. Look like a red carpet celebrity this prom.
With an extensive prom collection featuring all the latest and chic trends for 2010, the dream dress can be found within seconds. Jovani's talented team of designers are experts in their field and are always one step ahead in predicting upcoming trends. For styles that are formal and fashion forward, look no further than Jovani's prom collection for 2010.
Company
Jovani is a premier eveningwear and prom dress designer that carries all the latest trends and styles. Priding itself on fashion-forward and futuristic designs, Jovani stands apart from all other designers. Whether it's a special occasion or just an addition to the closet, one can discover a variety of evening gowns and dresses, cocktail minis and contemporary separates. Visit http://www.jovani.com.
Contact: Nazy Rafaeil
Phone: (212) 279-0222 Ext. 181
###