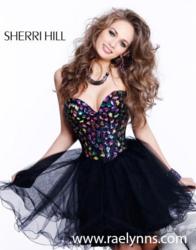 It seemed that every time we answered the phone during prom season last year, it was about a Sherri Hill dress, said Allie Meagher, a RaeLynn's employee
Indianapolis, IN (PRWEB) September 12, 2012
Sherri Hill is known for elegant and chic styles with exquisite beading and intricate designs. Her dresses have been worn by various titleholders in both the USA and America pageant systems, as well as celebrities across the globe.
RaeLynn's Boutique is one of the very few prom dress stores in Indiana to carry Sherri Hill dresses. Her elegant and classic styles have routinely been the most popular selling dresses at the boutique since opening in 2008.
Jessica Buch, Miss Teen Indiana USA 2011 and a loyal RaeLynn's Boutique customer, proudly wore an exclusive Sherri Hill design to compete for the title of Miss Teen USA 2011.
"We have loved working with Jessica over the last few years," said Alison McDaniel, owner of RaeLynn's Boutique. "She loved her Sherri Hill gown and had incredible confidence when she wore it to compete for the title."
New trends for Sherri Hill's 2012 Prom Dresses this year include cap sleeve ball gowns, neon colors, and stunning lace. Customers in search of an elegant and sophisticated style are sure to love Sherri Hill's latest designs.
"It seemed that every time we answered the phone during prom season last year, it was about a Sherri Hill dress," said Allie Meagher, a RaeLynn's employee. "I don't expect this year to be any different with all of her absolutely gorgeous styles."
"Her dresses fly off the racks and are always the first to go," said Karlie Stanton, another RaeLynn's employee. "Its an awesome thing that RaeLynn's can provide our customers with Sherri Hill's awesome styles who are competing for titles or going to prom!"
The best advice RaeLynn's employees have for prom 2013 shoppers: If you want a Sherri Hill prom dress this year, shop in January. http://www.raelynns.com
About RaeLynn's Boutique:
RaeLynn's Boutique is the largest social occasion dress boutique in Indiana, and a Top 10 Prom Store in the United States. RaeLynn's Boutique offers all of the top dress designers such as Sherri Hill, Jovani, Faviana, Blush Prom, Tony Bowls, Mac Duggal and more. Providing accessories, tuxedo rentals and even layaway. RaeLynn's Boutique in Indianapolis is a one-stop shop for social occasion needs. RaeLynn's is located on the southside of Indianapolis, Indiana, in Greenwood. Conveniently south of the Greenwood Park Mall, behind Kohls, on Fry Road, between US 31 and Madison Ave. 455 Greenwood Park South Dr, Greenwood, IN 46142 (317) 889-7766 http://www.raelynns.com