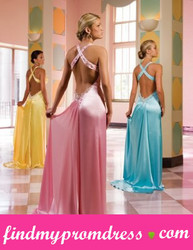 Every year a few specific designer styles are in high demand but since supply is limited they sell out early.
Roseville, CA (PRWEB) January 15, 2008
Every prom season brings thousands of new styles from the leading prom dress manufacturers and designs for 2008 are no exception. The top designers include Jovani prom dresses, Sherri Hill, Flirt, Mori Lee, Joli, Paris, Alyce, and Tiffany. Their prom dress styles can include: slim-fitting dresses, Cinderella ball gowns, Quinceanera dresses, long elaborate dresses with trains, and short little cocktail dresses. But there are always just a handful of a few specific styles that many young women seem to be competing to buy every year. This year is starting out no different.
The designers have brought in new fabrics for 2008 prom dresses like metallics and several bold prints. Some of the styles and fabrics are reminiscent of the 80's - think Drew Barrymore in Never Been Kissed as she stands on her porch waiting for her prom date to arrive only to be devastated as he throws and lands an egg on her beautiful prom gown -- a metallic fabric very similar to the looks of the new Flirt P1202. According to our December Prom 2008 style survey, many think that dress deserved to be egged. A lot of participants in our December Prom 2008 style survey really did not like the metallic fabric on Flirt style number P1202, one expected to be a huge hit this year. This survey was a very small sampling so it could still be one of the top dresses as style is personal and, while some might like to go more trendy, others like to stick with the classics.
Prom dresses for 2008 include both updates on popular 2007 styles (Paris 17772 in new colors) as well as completely new looks and interesting fabrics such as the metallics and bold prints. Short prom dresses continue to rise in popularity and many very cute and sassy short dresses are available this year.
So far for 2008, dresses with low backs and plunging necklines are very popular. Also, as usual, the most asked about designs are by the top designers listed above. Nancy Fallat, owner of Find My Prom Dresses says, "Every year a few specific designer styles are in high demand but since supply is limited they sell out early." She adds, "To not be disappointed, prom dresses should be ordered in January even though the prom might be months away."
A December prom style survey done online by Find My Prom Dress, asked about specific styles for 2008. The participants were asked to give a response for each style shown by choosing one of the following:

The one most people liked the best from the survey was the Paris Prom carryover from Prom 2007 in new colors -- Paris 17772 which features a low back, gorgeous colors, and a great fit.
A couple of surprises were:
Style 1202 from Flirt Prom Dresses - a metallic ballgown that is very similar in fabric and style to a LOT of dresses coming out for Prom 2008, was loved by only 9% of the participants and 51% of the participants hated it.
Alyce 6058 -- another carryover and a very revealing and sexy prom dress style that was one of the top requested styles for 2007 was loved by only 9% and hated by 66%.
It just goes to show that style is very personal and that while some people are more trendy, others like to stick with the classics, and the top prom dress designers provide a wide range of choices for both of these style groups.
About Findmypromdress.com
Findmypromdress.com is a division of Proms To Beaches, Inc., established in 2002 in Northern California. The Findmypromdress website focuses exclusively on prom gowns, homecoming dresses and quinceanera gowns. Since they do not carry bridal gowns, bridesmaids dresses, and other non-related merchandise, focus is on obtaining the best selection of the prom styles and offering them at the best prices. Part of Findmypromdress.com's customer service is in the name. They strive to find the prom dress you want and, if you shop too late and it's not available, they work with the customer to find other very similar alternatives. Shoppers can appreciate the great customer service from Findmypromdress.com.
###