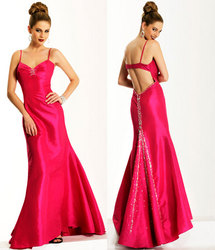 They have committed substantial resources to new growth and the future is both bright and exciting.
Philadelphia, PA (PRWEB) October 11, 2007
Getting ready for the upcoming season, Promgirl.net -- the nation's largest Internet retailer for prom gowns and homecoming dresses -- recently found itself facing a new set of challenges. How would it meet the coming season's growing demand? And what about the still more demanding season of 2008?
Rather than come up short in the area of 'new material' -- or the space needed to contain new and current gowns and dresses designed by many of the industry's best -- and to meet the ever-growing needs of the on-line shopping public, the prom gown and homecoming dress retailer opted for a proactive approach and expanded, energized by some bold decision making.
"We pride ourselves in supplying an easy, enjoyable online shopping experience, quick turnaround, and a vast selection," comments owner Klari Adrian. "To meet the growing needs, we've relocated to a larger facility, brought in new designers, are featuring more styles, and have increased the inventory of both print and short-length dresses. We just opened a second online store at http://www.4prom.com . If the current demand continues, as we expect it to, we will carry about 10,000 garments to meet customer demand for the 2008 season."
Every year, as the big events start to take shape and show up on the calendar, anxious young ladies tend to fret, hem and haw over the big decision of what to wear, Adrian says.
"Entire families can be affected by the drama, and part of the challenge is finding the right outfit that is at the same time stylish and current, while also retaining a reasonable price tag," he says. "After all, no one wants to show up for the big dance in a frumpy dress."
With famous names like Paris by Tony Bowls, Faviana, Dave and Johnny, Jovani, Clarisse, Mori Lee, Alyce and Tiffany, visitors at Promgirl.net can view professional photographs of company offerings, and these provide clear images of each gown.
"While the gowns play a 'leading role' there is certainly much more in store for the shopper as we provide a complete shopping experience," Adrian says. "Visitors can access everything from shoes and accessories to advice on what gym-workouts provide tone and a shapely 'gown-ready' figure; from information on sizes and the materials that make a gown to what kinds of outfits are appropriate for various occasions."
The Web site provides simple instructions so shoppers can order the correct measurements, and any tailoring is part of the basic cost. In addition, many orders can be shipped within 24 hours. Orders can be placed on line, or over the phone.
To support such an expansive operation, Promgirl.net has brought in a seasoned expert: Recently hired U.S. Operations Manager Kim K. will oversee the new state-of-the-art facility, complete with new, leading-edge inventory and shipping software.
"I am so excited to be a part of this excellent team," says Kim. "They have committed substantial resources to new growth and the future is both bright and exciting."
Taking on new challenges to grow and 'rising to the occasion' continues to be the manner of doing business at Promgirl.net, Adrian says. "There's no need to toil over the big decision when this particular online shopping experience is so easy, enjoyable and full of lavish gowns and resources. Indeed, Promgirl.net -- the Internet retailer for prom gowns and homecoming dresses -- lets you save all the drama for the event itself: When you walk into the room."
Contact:
Sorin Adrian, Promgirl
4700 Wissahickon Avenue
Philadelphia, Pa. 19144
Phone: (877) 900-7766
###