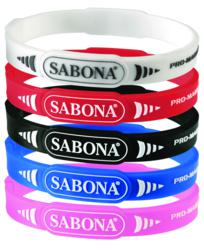 I saw that one [Pro-Magnetic Patriotic Wristband] at the pharmaceutical convention in Vegas for Cardinal Helath and loved them
Sikeston, MO (PRWEB) October 12, 2011
With the recent addition of the 2011 Patriotic Pro-Magnetic Wristband, Sabona customers can express their pride in America! The wristband is white, with red and blue highlights, and features the American Flag.
A portion of the sales of this item will be donated to support our troops. "I saw that one [Pro-Magnetic Patriotic Wristband] at the pharmaceutical convention in Vegas for Cardinal Health and loved them," said a fan of Sabona on Facebook. "I have red and white but would love a black one too!"
Introduced in 2010, Sabona's Pro-Magnetic Sport Wristband is a magnetic bracelet with broad appeal to consumers already familiar with the highly popular Western and Athletic product lines.
Due to the strong national interest in sports, the popularity of Sabona's sports-related magnetic bracelets have wide appeal across consumer markets, and come in five fashion colors (red, blue, white, black and pink). The Sports bracelet packaging features broad-appeal sport themes such as football, baseball, golf, soccer, and tennis. The Western bracelet packaging features five distinctive rodeo events including bull riding, barrel racing, tie-down roping, steer wrestling, and saddle bronc riding. Each wristband contains four 1200 gauss magnets and are housed in a titanium material which produces minus or negative ions.
For more information on these items, call 800-487-4199 or visit http://www.sabona.com
About Sabona of London Unlimited, Inc:
Sabona of London, Inc., established in 1959, has a long history as the premier manufacturer and marketer of copper and magnetic jewelry worldwide! The expanded Sabona product line includes Copper Magnetic Bracelets and Stainless Steel Magnetic Bracelets as well as Pro Magnetic Sport silicone wristbands and Sabona Athletic Bracelets, a line of fabric magnetic bracelets. In addition to magnetic bracelets, Sabona offers Copper Thread Supports, a line of supports for the knee, ankle, elbow, etc. that feature 5% copper thread in the fabric.
Contact:
info(at)sabona(dot)com
800-497-4199
http://www.sabona.com
###