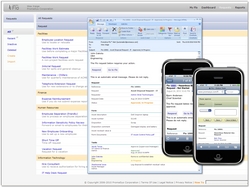 We are committed to help companies increase efficiencies and lower labor costs by providing workflow management through cloud computing
Cupertino, CA (PRWEB) November 9, 2010
PromaSys Corporation today announced it has added its PromaSys Flo™ workflow management application to the Google Apps Marketplace™, Google's online storefront for Google Apps™ products and services.
PromaSys Flo eliminates manual business processes and paper forms through the creation of web-based workflows. It incorporates electronic forms, routes, and business policies, created by users, with employee reporting relationships, to automate process approvals and execution. This results in improved tracking, rapid turnaround times, and accurate auditing trails.
PromaSys Flo workflows are less vulnerable to staffing changes and re-organizations by using employee reporting relationships and business policies rather than employee names, saving costly and time-consuming revisions. Ready-to-use workflow templates shrink development time and automate typical processes relating to administration, asset management, facilities management, production, procurement, finance, HR management, and others.
PromaSys Flo integrates with GmailTM, allowing users to receive and respond to email alerts of pending workflow tasks on their desktops or mobile devices without leaving their inbox.
"We are committed to help companies increase efficiencies and lower labor costs by providing workflow management through cloud computing," says Wes Jraige, President of PromaSys. "PromaSys Flo provides Google Apps users with an easy-to-use workflow automation tool that works seamlessly with their messaging and collaboration platform."
The Google Apps Marketplace makes it easy for more than 3 million businesses using Google Apps to discover, purchase and deploy integrated business applications and related professional services. By integrating with user account and application data stored in Google Apps, these cloud applications provide a simpler user experience, increase business efficiency, and reduce administrative overhead. To learn more, visit google.com/appsmarketplace.
To learn more about PromaSys Flo, or to sign up for a free 30-day trial, visit http://www.flo-workflow.com/googleapps.
About PromaSys Corporation:
PromaSys Corporation is a leading software development company specializing in business process management and workflow. PromaSys Flo™, its on-demand workflow management application, reduces labor costs, enhances the standardization, improvement and tracking of business processes throughout the company, and increases organizational agility to better meet market and regulatory changes.
PromaSys Flo is a trademark of PromaSys Corporation.
Google, Google Apps Marketplace, Google Apps and Gmail are trademarks of Google Inc.
For more information contact:
Wes Jraige, President
PromaSys Corporation
(408) 647 5491
wes.jraige(at)promasys(dot)com
http://www.flo-workflow.com
###