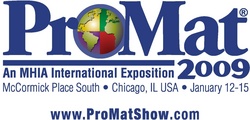 CHICAGO (PRWEB) September 18, 2008
ProMat 2009 Keynote To Address Looming Supply Chain Workforce Crisis
The manufacturing and distribution industry is facing a workforce crisis. Baby boomers are retiring, setting the stage for major shifts in workplace demographics including a declining working population through 2025. The result is a shrinking workforce and an immediate loss of supply chain experience and manpower. The ProMat 2009 Keynote titled Building The Workforce of the Future will provide an in-depth look at this crisis and what companies can do to adapt to these changes, attract and retain the next generation of workers and take advantage of new competitive opportunities.
The ProMat Keynote will consist of a panel of four experts at the forefront of this important issue and moderated by renowned business journalist Forrest Sawyer. They will provide real-world perspective, detail how the workforce is changing and offer practical ideas that will help you adapt to this change as you build your workforce of the future.
ProMat 2009 Show Floor Educational Seminars
In addition to the Keynote, ProMat 2009 will feature 100 solution-focused educational seminars hosted by industry experts and conducted in specially designed theaters right on the show floor in the ProMat 2009 Knowledge Center. For complete information on the ProMat Educational Conference including session details and speaker information, visit http://www.promatshow.com/attendees/conferences.aspx.
ProMat is the premier material handling and logistics show and conference held in North America. The four-day event consists of a showcase of leading equipment, systems and technologies that offer cost cutting and productivity enhancing solutions for manufacturing and the global supply chain. In addition, an extensive educational conference will focus on increasing productivity, reducing costs and improving sustainability in the areas of manufacturing, distribution and warehousing and logistics.
ProMat is sponsored by Material Handling Industry of America (MHIA). MHIA is an international trade association that has represented the material handling & logistics industry since 1945.