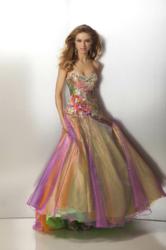 Promgirl.net is thrilled with all the positive feedback we have gotten from this contest
Philadelphia, PA (PRWEB) February 18, 2012
Promgirl.net recently launched a monthly Prom Dress Sketch Contest through their facebook page in order to better understand what young women are looking for when they go shopping for a prom dress in 2012. Last week the first, second and third place winners for January 2012 were announced on Promgirl's facebook page and now each of them has received a beautiful new prom dress as a prize for their winning designs courtesy of Promgirl.net's vast selection of prom dresses and evening gowns.
A tell-tale sign of the wide interest that this contest has generated and the ever growing appeal of prom is the fact that each of Promgirl.net's three winners hails from a different country. First place was awarded to Lule M. of Calgary Canada. Lule loves art and fashion and originally hails from the eastern European nation of Macedonia, Lule moved to Canada at age 13 where she currently works part time at a dental office while finishing school.
The second place design was submitted by Gold S. V. of Lompoc California. Gold has always enjoyed drawing and realized during her freshman year of high school that she was interested in designing clothes and dresses in particular. Gold has competed in other design competitions in the past and while this is the first time she has placed, considering her creativity and commitment it will almost certainly not be the last.
Finally Promgirl.net's third place winner is Ingrida K of Silute Lithuania. Ingrida is a high school senior who plays the piano and has studied art for ten years already. She hopes to continue her artistic pursuits after high school and credits her home town of Silute, with its rich history and historic architecture for much of her artistic inspiration.
"Promgirl.net is thrilled with all the positive feedback we have gotten from this contest," said President Sunny Adrian "And we are very happy that we were able to provide Lule, Gold and Ingrida with such beautiful dresses. We would like to take a moment to congratulate them on their gorgeous designs and wish each of them a fun filled and memorable prom."
Mr. Adrian went on to point out that "this kind of contest is one of our favorite activities to organize here at Promgirl because it benefits everyone. We get to see what styles, colors and designs the girls are looking for in their prom dresses and the winners get these wonderful dresses to wear to their prom. We can't wait to see what designs will take first, second and third in February."
If you're interested in seeing the three winning designs or if you're a young woman preparing for that special night and would like a chance of your own to win a free prom dress then don't forget to check out Promgirl.net's facebook page. And remember to keep any eye out for the lucky February winners.
Promgirl Inc. is a retailer of prom dresses, formal and evening gowns located in Philadelphia. With a facility of over 10,000 square feet and over 20,000 dresses in stock Promgirl Inc. is one of the strongest etailers of gowns and dresses for prom. For more information call toll free 18779007766 or visit their website http://www.promgirl.net
###