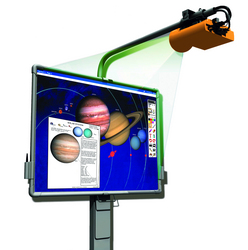 Creating and delivering lessons is simple. Each day, I learn something new and can tailor it to my students' needs.
Atlanta (PRWEB) December 7, 2007
Promethean, a global leader in interactive technology, today announced that its Activboard 2, all-in-one interactive whiteboard solution, has been chosen as a November/December 2007 Teachers' Pick by Scholastic Instructor Magazine.
Instructor, the nation's leading K-12 magazine for teachers, is the most widely circulated teaching magazine in K12 education, reaching more than 900,000 teachers and curriculum professionals. Every product chosen as a Teachers' Pick is carefully evaluated in the classroom by teacher testers.
The Activboard 2_title_Activboard 2 is part of the Activclassroom, an interactive classroom technology solution which integrates formative assessment, resources, and digital instructional tools. The Activboard 2 includes an adjustable mount, short throw projector and interactive whiteboard.
"It helps me reach all of my students in a fun, interactive environment," said Heather Monks, a high school math teacher from Sarasota, FL and one of the first educators in the country to use the new Activboard 2. "Creating and delivering lessons is simple. Each day, I learn something new and can tailor it to my students' needs."
About Promethean:
Promethean is a global leader in interactive learning technology that empowers teachers to engage, educate, assess and motivate learners. Developed by and for educators, its award-winning products help teachers to prepare digital lessons quickly and with greater ease. The technology enables them to create, customize and integrate text, web, video and audio content, so they can more easily capture students' attention and accommodate different learning styles.
Promethean Activclassroom solutions are helping educators teach and students learn worldwide with Activboard, the world's most durable interactive whiteboard technology; Activstudio, a software platform for secondary teaching; and Activprimary, the only product designed specifically for use in primary schools and kindergarten. It also offers wireless hand-held Activotes that permit instantaneous assessment of pupils' comprehension of lessons. Beyond the classroom, Promethean offers training and support to ensure maximum results and return on investment.
Promethean is headquartered in the United Kingdom. Its products are distributed through a network of partners and inspire millions of learners in more than 70 countries.
Contact:
Ian Bryan
Promethean Media Relations
888-773-4312 x101
###