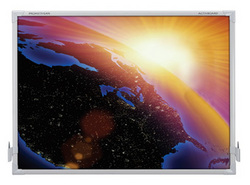 Activsoftware Inspire Edition was created to make life a little easier in the classroom
Atlanta, GA (PRWEB) January 14, 2009
Education technology leader (http://www.prometheanworld.com) Promethean has launched Activsoftware Inspire Edition, the latest in interactive whiteboard software. The first of its kind created for use with any brand of interactive whiteboard, Activsoftware Inspire Edition brings Promethean's award-winning software into a single, easy-to-use platform, intuitively designed for real-time classroom use by teachers and students alike.
Developed by teachers, for teachers, Activsoftware Inspire Edition combines the functionality of both Activprimary (for pupils aged up to 11 years) and Activstudio (for students aged 11 and above) into a single software solution that allows the user to operate in their preferred and most familiar interface. The new Activsoftware enables full integration of Promethean Activclassroom technologies, including Promethean's Activote and Activexpression Learner Response Systems. These can now be seamlessly incorporated into lessons without the need for additional software. With a simple upgrade option, Activsoftware Inspire Edition offers dual input capability, allowing two users to use the Activboard at the same time.
The new generation of software also allows each user to customise toolbars, layout and operation of the program. Users can now save multiple profiles for different teachers, subjects or grade levels. Activsoftware Inspire Edition is fully compatible with all major operating systems, including Windows, Mac and Linux. To meet overwhelming demand from teachers worldwide, the new software is fully compatible with any brand of interactive whiteboard.
Other key features include an extended library of resources with thousands of ready-to-use flipcharts, backgrounds, images, shapes and activities that can be instantly accessed through Promethean's online teaching community, Promethean Planet (http://www.prometheanplanet.com). Activsoftware Inspire Edition offers straightforward navigation and an innovative toolbar that updates automatically with the most frequently and last used tools. Improving on existing functionality, teachers can now integrate media players, images, and audio, as well as existing resources, even if from different interactive whiteboard software or programs such as Microsoft PowerPoint™.
"Activsoftware Inspire Edition was created to make life a little easier in the classroom," said Jean-Yves Charlier, Chief Executive Officer of Promethean. "Intuitively designed, Activsoftware Inspire Edition complements current teaching pedagogy, crucially saving teachers time and effort, allowing them more time to focus on students. For instance, for quick resource-building, teachers can choose from a variety of themed templates and search for content more easily in the improved browsing tabs. They can now also drag tools directly on to flipcharts, and shortcuts can be embedded within pages to enable actions to be applied instantly."
The full version of Promethean's new generation of software will be available in March 2009, and will be offered in two editions; Personal and Professional. The personal version will be available for all, including practitioners, students and parents, free of charge. Existing users of Promethean's previous software, Activstudio and Activprimary, will be entitled to a free upgrade to the Professional edition at no extra cost. New customers will be able to purchase this full version for a promotional fee of $99. As standard, the software will remain free for customers purchasing either Activboards or Promethean Learner Response Systems.
To celebrate the launch of Activsoftware Inspire Edition, Promethean USA has initiated a blogging competition which encourages teachers using interactive whiteboards to try out the new software and blog about their experience. Users interested in learning more can learn more and sign up at http://www.activblogging.com. Users can download the software for free at http://www.prometheanplanet.com/activsoftware.
###