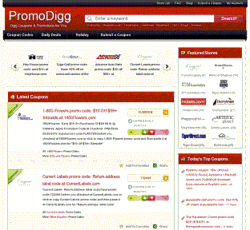 We make sure every code verified!
(PRWEB) April 17, 2013
Touch Media has launched a brand new promo codes site, PromoDigg.com. Keeping the philosophy that to save is to believe, PromoDigg.com has been ready to dig out all the new promo codes and fantastic deals for every consumer. PromoDigg.com features a large selection of online promo codes, offers and printable coupons and sorts them into detailed categories for visitors' easy finding. The special service in the sections of daily deals, free shipping and holiday also shows its delicate consideration. PromoDigg.com is getting updated continuously to provide the newest promo codes for customers to use.
Click the link Store List on the top of PromoDigg.com page. The site will lead the visitors to the sight of thousands of merchants arranged in alphabetical order. All those popular stores are reliable promo codes resources of PromoDigg.com and the wide range of products they provide can nearly meet all kinds of need. Popular apparel merchant - Macy's, one of the largest retail chains - Walmart, the world's number one domain registrar - GoDaddy and the online restaurant directory - Restaurant.com, are all PromoDigg.com's firm partners. As time rolls over from the just gone Easter to the coming Mother's Day, maybe consumers are considering how PromoDigg.com will prepare for the holiday changes. Famous merchants like 1-800-Flowers have distributed fresh Mother's Day discounts and fabulous creative ideas to help customers with gifts preparation. Visitors can certainly get access to their favorite stores at Store List.
To introduce a little bit more about the stores and their promo codes, take the case of PsPrint.com Promo Codes to give an explanation. PsPrint.com offers online services like designing, printing, and mailing a variety of documents. Its customers can be home users, small business owners or corporate clients. The company promises the best quality, better pricing and more options. Here, PsPrint.com provides any print quickly and effectively. Through the link such as PsPrint.com Promo Codes, visitors could have a look at some popular updated PsPrint.com promo codes like:
Up to 50% off Select Products, Expires in 12 months; 10% Off Club Card Flyers, Expires in one month; 10% Off Pocket Folders, Expires in one month; 20% Off Booklets, Expires in one month, etc.
Customers could keep social with PromoDigg.com through the presence on Twitter, Pinterest, Facebook or Google Plus, or register newsletters to receive and share whatever exciting savings they get. As the famous saying goes, "If saving money is wrong, I do not want to be right." PromoDigg.com backs up the saying by offering valid promo codes to enable visitors to approach saving information much more quickly and easily. While there is always room for improvement, how PromoDigg.com will stand every test is just remaining to be seen. For more information, please visit PromoDigg.com.