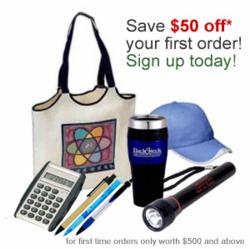 The online store at www.promopeddler.com is launching tote bags in various sizes, all of which are suitable for carrying notebooks, journals, and other school materials
Palo Alto, CA (PRWEB) September 30, 2011
Promopeddler.com, a one-stop shop for top-quality logo-imprinted giveaways, is releasing promotional products that can be ordered in combination especially for back-to-school events. A large selection of bags and writing pens priced at less than $2 is available for customization in time for marketing events before school resumes in September.
The online store at http://www.promopeddler.com is launching tote bags in various sizes, all of which are suitable for carrying notebooks, journals, and other school materials. Classic tote bags made of cotton are being offered for as low as $0.90. Imprinting process for such bags is silkscreening.
One particular model, item no. 9525494, is made of recycled cotton, which gives the bag a kind of softness that will make the tote very comfortable to carry around. This promotional tote bag is sized at 15x15 inches with 26-inch-long straps. Customers can pay only $1.66 if they bought large volumes. Logos are imprinted via silkscreen, charged at $50 per color.
There is also an array of pens at Promopeddler.com that can be given away together with the recycled cotton tote bags. Offered at a little more than a dollar, item no. 6430080 is a retractable pen that comes with an alligator clip, which can be attached to belts or shirt pockets. Set-up charge for pad-printed logos is $40.
The recycled-cotton tote and retractable pen can be purchased for less than $3 per set. Production time for both is typically 7 days. Delivery is within 3 days.
Companies looking for a variety of low-cost promotional giveaways can sign up at Promopeddler.com for free. Each new account is assigned a personal account manager that will facilitate the customization and ordering process. Promopeddler.com is further offering customers greater freedom to negotiate quotes for their orders. Their personal account managers accommodate budget concerns by discussing alternative orders and flexible quantity requirements, among others.
In addition, the website has recently been upgraded to now display a real-time production timeline when a customer places an order. This should allow Promopeddler.com's members to prepare promotional items very early, so they can start distributing back-to-school sets by August during registration.
About Promopeddler.com
Promopeddler.com is an all-inclusive online store for volume orders of the largest selection of top-quality logo-imprinted items. It has been awarded one of the fastest-growing distributors in the promotional products industry at the ASI Spirit Awards, and by the Portland Business Journal and Inc. Magazine. Its website has received numerous commendations as well, including the PPAI Silver Web Awards. Visit http://www.promopeddler.com.
###