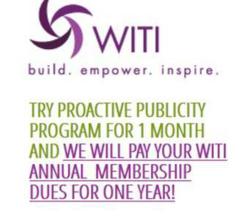 "Using technology is central to the lives and careers of professional women and women business owners, and our partnership with WITI is designed to shine the light on the significant technology accomplishments and skill sets of these women. Janet Powers
Boston, MA (PRWEB) February 21, 2012
Diva Toolbox and Women in Technology International (WITI), two notable organizations for professional tech-savvy women, today announced the launch of Proactive Publicity, a program designed for WITI members to showcase the personal and professional brands of women in technology to the media as "go to sources" for technology topics and best practices, while also empowering women who are using technology in their businesses and careers.
"This powerful collaboration supports the 2012 Diva Toolbox goals for helping women in business leverage the media and technology for business success," says Diva Toolbox Founder, Janet Powers. "Using technology is central to the lives and careers of professional women and women business owners, and our partnership with WITI is designed to shine the light on the significant technology accomplishments and skill sets of these women. We want to help them tell their stories."
"This partnership furthers WITI's efforts to highlight the expertise and accomplishments of women in technology and gives our community a cost effective way to build their professional brand," said Carolyn Leighton, Founder of WITI. "We are excited to have our members start using the Diva Toolbox™ publicity platform, and see this new program as an excellent complement to our existing services which include networking, career services, events and publications."
The Proactive Publicity program for WITI members utilizes Diva Toolbox™ best practices to help win media coverage that boosts members' visibility and industry credibility. Included in the Proactive Publicity Program is an annual WITI membership to further support the member's connections, resources and opportunities.
For women working in the technology industry, media coverage can be documented on their online profiles, C.V., resumes or websites. An enhanced profile can open doors to new opportunities, help them move up in their careers or position them to win that next promotion.
For the woman technology business owner, media coverage can be highlighted on their individual social media profile and on their company website. A company website that features media or speaker pages helps increase marketplace visibility, better positions the owner or company's expertise, positively influences buyers and bring in new business.
About the Diva Toolbox™
Named by MORE.com as one of the best websites for women entrepreneurs, Diva Toolbox is the premier destination for women in business to learn, grow and succeed. Its tagline "Within you lies the ability to do anything. Find it!" illustrates its mission is to empower, educate, and entertain women. The Diva Toolbox helps women succeed across the major areas of their lives, including: business ownership and entrepreneurship, financial planning, career, home, family, health and beauty. Led by Chief Executive Diva, Janet Powers, the organization provides its members with a strong, supportive network and powerful voice, and as its name implies, a veritable toolbox for success.
About WITI
WITI is the world's leading trade association for professional, tech-savvy women committed to using technology, resources and connections to advance women worldwide. With a global network of exceptionally successful women leaders, WITI has established powerful strategic alliances and programs to provide resources and opportunities within a supportive environment of women committed to helping each other succeed. WITI's mission is to empower women worldwide to achieve unimagined possibilities and transformations through technology, leadership and economic prosperity. For more information please visit http://witi.com
Diva Toolbox Contact: Janet Powers | Diva Toolbox™, LLC | (877) 424-3482 | janet(at)divatoolbox(dot)com
WITI Media Contact: Paula Gould | PEG PR for WITI | (323) 570-0734 | paula(at)heypeg(dot)com
###