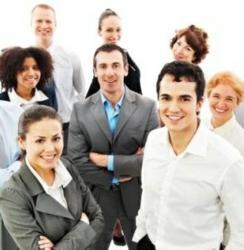 To win an office assistant + lots more prizes, enter the promotion by following the Teleworking Expats For Hire company page on LinkedIn.
Nelson, British Columbia (PRWEB) June 26, 2012
To celebrate the launch of high-tech recruitment company TeleworkingExpatsForHire.com, business owners can win the services of a teleworking office assistant for two months (worth $4,800) to witness for themselves the many advantages of employing virtual office staff. There are also lots more prizes available by entering this LinkedIn promotion - three people will win the second place prize of a free Google Apps Conversion and license fees for one year up to a maximum of 10 Users (ARV $1500 each). And twenty third place prize winners will each receive one year of website and email hosting and a conversion of their website to WordPress to enable end users to make real time updates to their websites content (ARV $520).
Working with virtual employees means greatly reducing expenses such as office space and computer equipment, but the savings are reduced to at least 50% of traditional staffing costs when choosing professional expats living abroad in countries like Mexico, where the cost of living is so much lower. This innovative concept of 'expat-shoring' implies all the benefits of 'near-shoring' (common time-zones and closer geography) but with the extra advantage of working with highly qualified colleagues who have the same accent and shared cultural linkage. As well as finding a suitable expat for business clients, TeleworkingExpatsForHire.com enables the workings of a virtual assistant by including within the service the file sharing software, the latest technology in VOIP/Telecommunication solutions and all the IT support needed to facilitate this connection.
Small and medium-sized business owners are those set to benefit the most from expat-shoring, as the lower wages can mean the difference in expanding their business or simply treading water. According to John Leishman, "A teleworking expat office assistant working from Mexico is only around $27,000 per year, compared to $65,000 in North America once you factor in office space, payroll, equipment and supplies. That's an advantage for any business, but for small and medium-sized businesses in particular? Well, it makes a huge difference".
Not just as office assistants can teleworking expats save North American businesses money – the thousands of expats living in Mexico come from many different professional backgrounds and are often highly qualified individuals with many years of experience in their fields, such as law, accounting, hospitality, IT and marketing.
By entering this promotion to win an office assistant business owners can see for themselves the benefits expat-shoring can bring to their companies. The promotion will be running until August 7 - just 'follow' the TeleworkingExpatsForHire.com company page on LinkedIn to go into the draw to win an office assistant and lots more.
COMPANY INFO: John Leishman, director of TeleworkingExpatsForHire.com, has a history of successful business ventures ever since he founded his first business at 22 years of age. After finishing university in the early 1990s and finding few job prospects in Canada he started a pooper-scooper business with a friend which was so successful he was soon making $55,000 per year for just three days of work per week. Since then he has started businesses in the tourism, hospitality and IT industries, with TeleworkingExpatsForHire.com being the fifth company he has founded. John lives in Nelson, BC with his wife and four kids. With a home office inside a 40 year old Airstream overlooking the Purcell mountains, he is the first to admit that he has reaped the rewards of teleworking.
CONTACT DETAILS: For an interview with John Leishman, Director of TeleworkingExpatsForHire.com, contact Nicola Pitt (an expat publicist working out of Mexico City) or phone toll free 1 800 847 4757. Visit TeleworkingExpatsForHire.com for more information about how expat-shoring can help small and medium sized businesses.