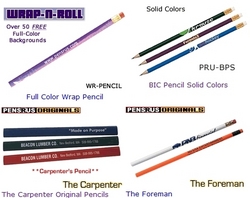 All orders for personalized pencils from PENSRUS will now offer free ground shipping through the remainder of 2010 ...
New York, NY (PRWEB) October 18, 2010
All orders for personalized pencils from PENS RUS will now offer free ground shipping through the remainder of 2010, according to PENSRUS CEO Henry Morgan. For over 10 years, PENSRUS has been a top distributor of name brand custom pencils, promotional pens, logo sticky notes, personalized backpacks and tote bags, custom mouse pads and other advertising specialty products.
Customers will find a huge selection of imprinted pencils, including wooden, plastic, metal, mechanical, carpenter style, and golf and bowling score keeping pencils, both hex and round shaped. Many of the logo pencils available from PENSRUS are manufactured by BIC, which has over 5 decades of experience developing the highest quality, durable, attractive and affordable writing instruments. Additionally, PENSRUS also offers customizable elegant pen and pencils sets.
With prices starting as low as $0.14 each, customers can easily find the right promotional pencil to meet their needs, whether corporate branding, or to commemorate an important personal event. All promotional pencils offer a generous imprinting area and can accept text, corporate logos or artwork. And, as with all custom pens sold at PENSRUS, there is no setup charge, no logo charge, no programming charge and no imprinting or engraving charge.
"The comprehensive selection of imprinted pencils available from PENSRUS are consistent favorites among our loyal customers," reports PENSRUS CEO Henry Morgan. "Customers find that customized pencils are a fantastic alternative to personalized pens and offer the same high levels of detailed imprint quality found in the most expensive line of promotional pens."
For more information and a full listing of the logo pencils, pens and other promotional products, please visit http://www.pensrus.com
About PENSRUS
PENSRUS is a world-leader in the advertising specialty industry providing a huge assortment of personalized and promotional products including personalized pens, pencils, sticky notes, mouse pads and more. Founded in 2001, PENSRUS has helped thousands of companies increase customer loyalty and brand awareness through their quality products.
###