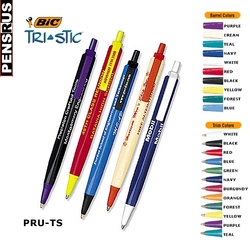 PENSRUS developed this guide to make it easier for promotional pen shoppers to ensure their getting the best value and the right product for their needs
New York, NY (PRWEB) February 26, 2010
PENSRUS, a leading provider of advertising specialty products, promotional writing instruments and custom logo items is releasing an informative guide for those looking to purchase custom pens. This free guide is intended to help those in the market for promotional goods more easily find the right product at the right price to meet their promotional needs.
When shopping for promotional pens, you're going to encounter numerous suppliers, brands, styles and prices to select from. The time you invest in doing some upfront research will more than payoff for you, ensuring you receive the right promotional product to meet your needs and at the best price.
As a way to ease that research process, PENSRUS has listed some important considerations as you shop for that right custom pen.
Perhaps the most important feature is the look or style of personalized pen. These types of logo pens come in many different styles and construction including plastic, wooden, and metal. Additionally, be sure you browse the supplier's website to get a good feel of the different types of pens available - twist, retractable, and stick pens.
Once you've identified the type of custom pen, you'll want to start thinking about unit costs and any minimum order quantities and how that will fit into your budget. It's relatively easy to compare costs among the many vendors, however, make sure you also determine what, if any, the logo setup fee will be, shipping charges and any other costs associated with delivering your custom order.
Another important tip is focusing your search on quality promotional pens. Obviously, a pen carrying your logo should stand up well to the everyday demands of a writing instrument and have long-lasting ink. One of the best ways to know you'll be receiving a quality custom pen is to limit your search to the well-known quality brands available, such as BIC, Paper Mate, Pentel, Parker, Scripto and Waterman.
Length of delivery time is another area to consider. Some vendors offer free shipping – be sure to have the vendor specify an estimated delivery time. Usually, most personalized pen providers offer 24 hour turnaround on some types of their logo pens. There will likely be an extra charge for this service.
Finally, look for suppliers who offer wide array of name brand pens, styles, and construction type. Check to see if the supplier is a member of respected consumer organizations such as the Better Business Bureau. Also, look for vendors who have been in the promotional pen business for many years and can provide references upon your request.
"PENSRUS developed this guide to make it easier for promotional pen shoppers to ensure their getting the best value and the right product for their needs," comments PENSRUS CEO Henry Morgan. "This is just one part of the multi-faceted customer service program at PENSRUS that our loyal customers have come to appreciate".
For more information on the guide or to request a free catalog, visit PENSRUS.
About PENSRUS
PENSRUS is a world-leader in the advertiser specialty industry providing a huge assortment of personalized and promotional products including personalized pens, pencils, sticky notes, mouse pads and more. Founded in 2001 PENSRUS has helped thousands of companies increase customer loyalty and brand reach through their quality products.
###