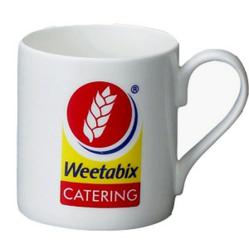 Promotional Products can be a great investment to support a marketing campaign, no matter what the budget, because useful things like promotional mugs will stay in people's homes and offices for years as a constant reminder of the originating company
Manchester (PRWEB UK) 27 February 2013
2012 was a gloomy year for many UK businesses; those that survived and are still trading in 2013 are likely to have made serious cut backs in order to stay afloat. Marketing budgets are usually amongst the first to be cut, as although marketing drive sales, it is not essential to on-going business operations. But this hasn't deterred new marketing related businesses from entering the scene, and now they will be glad they did as the marketing industry is globally looking healthier than most according to WARC's Global Marketing Index.
WARC are publishers of worldwide respected marketing publications such as Market Leader. WARC's GMI offers an indication of global marketing budgets, staffing levels and trading conditions in the marketing industry.
Antony Showman of Zest Promotional Products is Director of one business that is pleased by the increase in the GMI.
"I am very pleased to be able to offer a wide range of promotional products for businesses at a time when marketing spends are likely to be on the increase again" says Antony. Antony has spent time preparing his product offering to supply an impressive catalogue of over 100,000 branded product options.
"Zest Promotional's offering is tailored to suit any size business right from the sole trader to large corporates. Promotional Products can be a great investment to support a marketing campaign, no matter what the budget, because useful things like pens, promotional umbrellas and bags will stay in people's homes and offices for years as a constant reminder of the originating company" he explains.
Antony is getting ready for a busy summer with his business as we come in to trade fair and exhibition season in the UK and the weather gets better for events such as company golf days and summer fairs which all lend themselves perfectly to orders for promotional products.
"I am undertaking marketing of my own to spread the word about Zest Promotional. I have been able to continue supporting the marketing economy myself by teaming up with a Digital Marketing Company to support me with my online presence." Says Antony.
With an increased spend on marketing looking likely for the whole of the UK, it's also possible that this marketing spend will pay off, increase sales for businesses and in turn create employment opportunities not only in marketing but the businesses that benefit from running a marketing campaign too.
End note
Zest Promotional are a Manchester based promotional products supplier offering artwork support, quick quotes and an extensive catalogue of choices for branded promotional items.