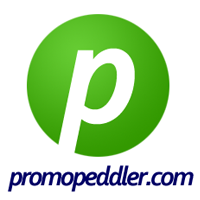 Customers can also take advantage of the savings on Promopeddler.com.
Palo Alto, CA (PRWEB) December 22, 2011
Logo-imprinted items online store Promopeddler.com is launching a number of money-saving promotions this holiday to end-of-year season to attract a wider range of shoppers.
Currently on special offer are 10 of the web store's top-selling giveaways, discounted up to 50% off their original prices on the website. Launched in the "Year-ender Clearance Sale" sent through e-mail to all customers registered at Promopeddler.com, the items make up a selection of logo-imprinted giveaways suitable for corporate promotions, trade shows and events.
Among the featured products is item #100001, a 4-in-one screwdriver available in three different colors, now only $0.75 from its original $1.33 price. An eco-friendly squeeze flashlight that doesn't require batteries is now sold for only $1.79 instead of its $2.57 store price. Customers can also take advantage of the savings on Promopeddler.com's best-selling strap key tag (item #100010), now priced $1.35 from $2.70.
Prior to this clearance sale, the one-stop shop for top-quality giveaways has also rolled out a free shipping campaign on calendars in the first week of December. Dubbed "End-of-season Shipping Spree," the promotion offered free ground shipping on Promopeddler.com's best-selling calendars anywhere in the 48 states and D.C. (except Hawaii and Alaska) up to December 9, 2011.
While running these back-to-back e-mail-only promos, Promopeddler.com continues to run web store campaigns. These include the planner and calendar sale, where customers can purchase item #9167349—a monthly desk planner with three-year reference calendar—for only $2.66 with a minimum order of 100. This is still on top the website's regular Deals of the Week sent to all e-mail subscribers, which often offer free setup and a one-color imprint on specially selected items.
Promopeddler.com's efforts on offering discounts and promos until the end of the year not only allow the company to generate new interest in the industry, but also strengthen its relationship with its long-time buyers. As always, new and returning customers can enjoy the online store's customization tools at no charge. A personal manager is assigned to every account to ensure all things from the ordering process to delivery meet clients' expectations.
Sign-up at http://www.promopeddler.com is fast and free of charge, allowing businesses of all sizes to subscribe to exclusive e-mail promos and product alerts. These feature the latest updates and promotions, including those not available on the website.
About Promopeddler.com
Promopeddler.com is an all-inclusive online store for volume orders of the largest selection of top-quality logo-imprinted items. It has been awarded one of the fastest-growing distributors in the promotional products industry at the ASI Spirit Awards, and by the Portland Business Journal and Inc. Magazine. Its website has received numerous commendations as well, including the PPAI Silver Web Awards. Visit http://www.promopeddler.com.
# # #