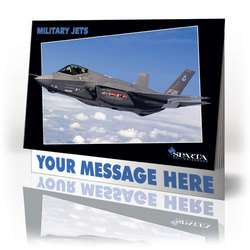 Each year, more and more Fortune 500 companies are choosing our premium gift quality calendars when considering promotional products
Long Beach, Calif. (Vocus) April 1, 2010
Sparta Calendars, a Southern California-based, family-owned promotional products company offering deluxe custom calendars for retail and promotional marketing, earned a total of 11 Calendar Awards this year from the Calendar Marketing Association (CMA). These annual awards recognize the Nation's and World's best calendars.
A panel of judges examined and rated all entries on the following criteria:

Quality of artwork/photography/graphics
Readability and information quality of calendar grid
Originality of calendar
Complete execution of calendar subject/theme
Fulfillment of category entered
Sparta Calendars has made a name for itself with its premium promotional calendars, which are the hands-down favorite imprinted calendars of the aviation and aerospace industries. Calendar titles ranging from "Hot Air Balloons" to "Space and Earth" contain stunning photographs, and Sparta's diverse range of calendars has made the company the world leader in aviation imprinted calendars for over 24 years.
"Each year, more and more Fortune 500 companies are choosing our premium gift quality calendars when considering promotional products," said Hap LeCompte, a specialist with Sparta Calendars. "These companies just love the calls they get from their customers wanting to know when their calendars will arrive. They can't believe customers actually ask for their promotional items every year."
Two of Sparta's most popular titles, "Ghost Warbirds" and "Military Jets," earned gold Calendar Awards in the "Best Photography" and "Most Informative" categories. Other Sparta calendars, including "Premier Golf" and "Shock and Awe," won awards in the "Best Graphic Design," "Most Original," "Best Photography," "Most Informative" and "Best Subject" categories. "Sport Fishing" and "Bass Fishing," two first-year calendar entries into the highly competitive "Wildlife" category, also earned Calendar Awards.
"We are honored that the CMA has recognized our calendars and awarded them so highly," said LeCompte. "Our imprinted promotional items business, specifically our wall calendar business, continues to grow larger every year despite the down economy, confirming that we are doing something right. We are finding companies are trying to grab more market share with our calendars as they have fewer advertising competitors. Few things grab your attention like a beautiful photograph, so I must give credit to all the professional photographers and our art department, which continue to make our award winning calendars."
To learn more about Sparta Calendars, visit http://www.spartacalendars.com.
###