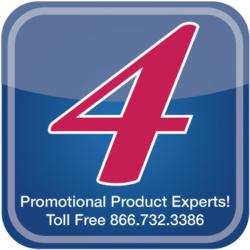 Essex, Ct (PRWEB) May 22, 2012
The sale of promotional products has grown into a $16 billion industry. Promotional products are a smart and cost-effective way to advertise for both small and large companies. Nowadays it's possible to custom imprint virtually any kind of promotional product. However, 4AllPromos and promotional product retailers around the United States see one type of product continue to reign supreme year after year. Wearables such as t-shirts, hats, and jackets continue to be the most popular kind of promotional product in the United States.
According to Promotional Products Association International, wearable promotional products account for thirty-three percent of all sales. Other popular promotional products such as pens and calendars only make up between eight and nine percent of sales.
Consumers enjoy wearable promotional products such as t-shirts, sweatshirts and hats because they are long last reminders of the places they've been and the events they've attended or participated in. Apparel allows people to express themselves, support a popular sports franchise, show solidarity during a charity walk or fundraiser or simply be comfortable.
The wearable industry has evolved in the past couple of years to include a more diverse inventory of popular clothing including pajama pants, cold weather apparel and even shoes. Many companies have even jumped on eco-friendly bandwagon by selling organic cotton products or soy based products.
"It's important to be aware of the latest trends in the fashion world," says Cosmo Corigliano president of promotional products company 4AllPromos. "People want to wear what's in and companies want to print their logos on products that will sell."
4AllPromos has a large selection of apparel on it's website including everything from Aprons, to golf shirts to motorcycle jackets. Corigliano says 4AllPromos mostly sells t-shirts to schools, sports teams and for special fundraising events. Based on research from the PPAI people in the education and non-profit are two of the biggest buyers of promotional products.
Apparel is a unique promotional product because it can be so customized. Anything from t-shirts, to hats, to ties, to socks can be printed with specifics names, in special colors and in the right size for the customer. These customizations are what make wearables such appealing and coveted products by the consumer.
4AllPromos is leading online retailers of promotional and custom imprinted products specializing in tote bags, drinkware, pens, apparel, calendars, gourmet food, travel accessories, fundraising, school spirit and political giveaways. To learn more about unique and custom imprinted apparel visit 4AllPromos online at http://www.4allpromos.com or call a friendly product specialist toll-free at 1-866-732-3386.