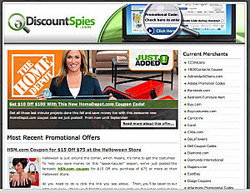 It doesn't matter what you're shopping for -- from office supplies to software to lingerie -- we've got coupon codes you can use to sometimes save $20, $50, $150 or more on sites whose names you recognize
Houston, TX (PRWEB) September 30, 2009
For the shopper bent on saving money in the recession, DiscountSpies.com offers a huge bonanza of coupon codes leading to sizeable discounts at hundreds of major name brand sites.
Consumers can sometimes save 10 percent or more at hundreds of major retail sites such as Home Depot, Office Depot, 1800Contacts, Shoes.com, SmartBargains.com, Lane Bryant, Adobe.com, RingCentral, plus many more.
What separates DiscountSpies.com from other coupon sites is their staff of researchers who make a business of uncovering hard-to-find discounts. Retailer discount web pages are frequently hidden deep within large websites, making it difficult for the busy consumer to find them. "Shoppers no longer have to spend all day working to find discounts and coupon codes. We find them for you," said Rick Shearer of DiscountSpies.com.
Most other coupon sites are automated data feed services that carry information sent to them by retailers. Their information is frequently outdated and their codes don't work. DiscountSpies.com steps well beyond that practice to have skilled staff members who use information gathering, negotiation, and customized discount finding software to uncover even the most impossible to find discounts. Discount codes are accurate and work.
"It doesn't matter what you're shopping for -- from office supplies to software to lingerie -- we've got coupon codes you can use to sometimes save $20, $50, $150 or more on sites whose names you recognize," Rick said.
Coupon shopping has gained massive popularity in recent months as everyone from families to teens to retirees are struggling to make every dollar go further. "We're seeing a big influx of businesses using coupon codes to save on supplies. We're pleased that our site is helping many businesses and non-profits keep their doors open," Rick said.
Conversely, retailers are using discounts extensively to boost sales during an otherwise sluggish economy. Key players in virtually every market sector are conducting continuous sales while, often covertly, offering huge savings to those who can find their coupon codes.
DiscountSpies.com makes the entire coupon process fast, easy, and hassle-free. "This is why we're seeing major growth in our audience and increasing favorable attention from sellers all over America and around the world," said Rick.
###