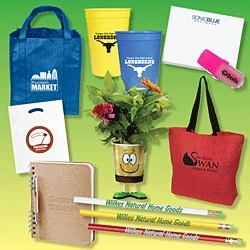 Show your customers and prospects you care about the environment, too, by making sure your promotional giveaways are ecologically-friendly.
Lewiston, ME (PRWEB) February 19, 2009
Crestline Custom Imprinted Products, a direct marketing promotional products company that trades on its easy, customer-friendly ordering process, offers scores of custom imprinted products made from environmentally-friendly materials.
"More and more consumers are becoming concerned about whether their purchases are harmful to the Earth," said Kim Beaudin, Crestline Product Manager.
"Show your customers and prospects you care about the environment, too, by making sure your promotional giveaways are ecologically-friendly."
Crestline's green specialty store carries a wide variety of products that can be personalized with a company's custom logo, art or message and are made from Earth-friendly recycled, natural, biodegradable, or reusable materials.
Buying recycled products is one easy way to protect the environment. Not only do products made from post-consumer materials mean fewer natural resources are consumed, they also reduce the waste-stream, meaning less land is needed for landfills. Crestline offers many recycled products, including journals, pencils and pens, like the popular Ecolutions pen by Bic®.
Items made from biodegradable materials, which decompose over time, are another category of products that help to reduce the waste-stream. Many Crestline products, such as convention bags and the miniMax™ Highlighter, are now being made from revolutionary new biodegradable plastics.
Another popular category of green products are those made from natural or organic fibers, such as the Siam Tote, made from natural jute, or the Roll 'Em Up Organic Lunch Sack, made from unbleached organic cotton canvas. Environmentally conscious consumers often prefer such products because they are made from renewable resources, and without the use of potentially harmful chemicals or pesticides.
Reusuable products that replace traditionally disposable items are another popular variety of green promotions. As more states outlaw or tax plastic grocery bags, reusable grocery totes have become one of the most popular promotional items.
Crestline offers many green items priced under $5, making them perfect for cost-effective giveaways. Lower cost green promotional items include Bic® Eco Sticky Notes, Enviro-Cups, and dozens of others.
In addition to the thousands of products available on the company's Web site, Crestline has access to a network of hundreds of thousands of other items, virtually guaranteeing that, no matter what customers are looking for, they will be able to get their hands on just the right custom imprinted item.
About Crestline:
Crestline is a direct marketing company offering an extensive selection of reasonably priced, quality imprinted promotional products. Crestline's highest objective is to provide superior customer service, making the ordering process as straightforward and hassle-free for clients as possible. By utilizing several marketing channels, including printed catalogs and an easily navigable interactive Web site, Crestline has become a one-stop destination for custom imprinted products. For more information, visit http://www.crestline.com.
###