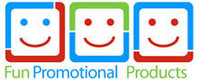 Our new E-commerce is just a natural progression for us
Miami, FL (PRWEB) March 16, 2010
Since 1979, Bargay Advertising has been the source for imprinted promotional products in South Florida, the Caribbean, and Europe, partnering with household names around the globe to produce attention-getting items for clients and corporate campaigns, including Burger King International, UPS, Loreal Parbel, Spanish Broadcasting System, The Gansevoort Hotel, Florida International University, and Leon Medical Center. Although the family owned and operated Bargay Advertising takes the business of promotional items very seriously, the company also knows first and foremost that promotional products are fun. This idea lead to the recent launch of the new company website, funpromotionalproducts.com where learning about promotional possibilities and creating campaign concepts is a pleasure.
"Our new E-commerce is just a natural progression for us," said Sissy Bardisa, a second-generation family member and account manager with a long background in marketing and advertising. "Our family has a rich, cumulative wealth of industry information in the promotional product arena and advertising realm, and it would be a waste not to share it." The E-commerce includes an informative blog that does more than highlight product suggestions; it will address advertising trends, ecological tips for an earth friendly business, promotional campaign success stories, and inspiration for creative campaigns to build brand awareness, reach new customers, boost sales and bolster employee moral.
The new E-commerce is designed to be fun to shop, easily navigable with a fun virtual environment conducive to energetic promotional ideas for any business. It also includes a social media platform linking to the online communities twitter, facebook, and You Tube to stay connected with clients, the advertising industry, and offer special deals and cutting edge promotional trends, tips, articles, and case studies.
Bargay Advertising has made a commitment to offering eco-friendly green products, such as biodegradable pens made from corn plastic, organic wearables, awards made from recycled post-consumer materials. Earth friendly products are available at funpromotionalproducts.com, in addition to thousands of standard and eco-friendly promotional options in-house. For more information and product selection, call customer service at 1-866-611-0115. For the lowest prices and weekly specials, join the FunPromotionalProducts.com Fun Club by sending an email to info(at)funpromotionalproducts(dot)com, or subscribing at funpromotionalproducts.com.
FunPromotionalProducts.com specializes in thinking outside the box for clever promotional advertising campaigns, and offers the basic promotional items like silkscreen imprinted T-shirts, embroidered apparel, promotional pens, branded notebooks, promotional keychains, and company logo mugs, in a spirit of fun and friendly customer service.
About FunPromotionalProducts.com: Bargay Advertising was founded in Miami, Florida in 1979 by Armando and Teresa Bardisa and is located at 911 SW 122nd Avenue, Miami, Florida. Funpromotionalproducts.com is an interactive online extension of the family legacy of unlimited quality products and fast, friendly service.
###