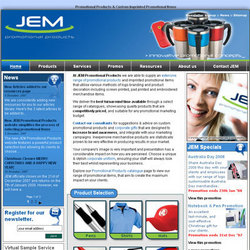 Once you've selected your products, we've developed an easy to use Quote Builder which allows you to add products to a quote request on the fly – greatly reducing the amount of time needed to request pricing for our products
Sydney, NSW (PRWEB) December 11, 2007
Sydney-based promotional products distributor JEM Promotional Products launched their new website on December 7th 2007, unveiling a number of unique features that will help to simplify the process of selecting promotional products for their clients.
The new JEM Promotional Products website will feature a promotional product selection tool which filters through their enormous catalogue of promotional merchandise currently boasting over 6,000 viewable products online.
"The product filtering system is a very practical feature of our new corporate website, and the company feels this has re-affirmed our position as a market leader in the Australian promotional products industry," explains Jeremy Cabral - marketing manager for JEM Promotional Products.
"Our new promotional product selection tool allows our clients to effectively filter through the mass of promotional items available in our online catalogue, giving them the ability to filter through the catalogue by product colour, marketing campaign type, delivery lead time, and even the shape of the product," Jeremy explains.
"One example product search performed by our clients using the new product selection tool may be to find a Summer promotional gift designed for the corporate market that is available on a 10 working day lead time. The website provides the ability for our clients to search within these parameters making it indeed a very powerful and practical tool for our clients," Jeremy states.
Product information and specifications are also easily accessible within the new product detail pages including detail product descriptions, product notes stating things such as colour availability, and in some cases the carton weights and configurations.
"Once you've selected your products, we've developed an easy to use Quote Builder which allows you to add products to a quote request on the fly – greatly reducing the amount of time needed to request pricing for our products," Jeremy explains.
The new website launch is clearly a positive milestone for JEM Promotional Products as was their recent rebranding - revamping their company logo and now with a new slogan – "Innovative Promotional Concepts". Another recent achievement for the company was their acceptance in to the international promotional products association PPAI showing the industry it's ready to take on the global market.
"Many of our clients have noted how useful our new website will be for them and the company will endeavour to constantly improve and add to the services offered to its clients," Jeremy stated.
The new JEM Promotional Products website can be accessed by visiting http://www.jempp.com.au . For additional information contact Jeremy Cabral.
About JEM Promotional Products:
Established in 2001; JEM Promotional Products has performed as one of the fastest growing promotional products companies in the Australian promotional products industry.
Contact:
Jeremy Cabral, Marketing Manager
JEM Promotional Products
+61 2 8205 1334
http://www.jempp.com.au
###