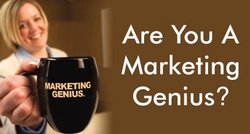 Are you a Marketing Genius?
Harrisburg, PA (PRWEB) March 13, 2008
Marco Promotional Products, a leading provider of meeting registration materials, promotional items and logo products for over 44 years, asks the question "Are you a Marketing Genius?" on the cover of their new Spring/Summer 2008 Catalog.
The promotional products distributor then guides prospective clients to MarcoPromotionalProducts.com/GeniusMug to take a 10-second test where they can prove their 'marketing genius' and, in doing so, receive a free Marketing Genius Mug.
The single question test plays up MARCO's industry-leading Guarantee of Lowest Prices or Double-the-Difference Back, On-Time Shipment or the order is free and Complete Customer Satisfaction through their Free Samples Policy and their highly-trained Customer Service Team.
By using the catalog to promote the special free mug offer that is only available via a test on their web site, MARCO is successfully leveraging the benefits of both channels, print and web.
Commenting on the promotion, Dick Nelson, CEO of MARCO and founder of 4imprint, "We are always on the lookout for ways to leverage the synergy of our catalog with our web site and our telesales group. And when the team came up with this promotion, it was clearly as great way to promote all three channels."
About MARCO Promotional Products Based in Harrisburg, Pennsylvania, MARCO has been a leading provider of meeting and registration materials as well as promotional items and products since 1964. For more information, visit MarcoPromotionalProducts.com or call 800.232.1121.
Contact: Jessica Bates Marketing Manager 920-651-1247, ext. 2008
###