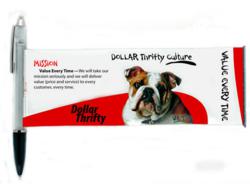 "The pen is mightier than the sword." - Benjamin Franklin
Atlanta, GA (PRWEB) March 10, 2012
Pens, pencils, markers and highlighters will soon have a higher value than the gross domestic product of nearly half the countries in the world, a new study shows. A report from research firm Global Industry Analysts shows that the global market for writing instruments is set to reach $21.6 billion by 2017.
Promology101 announces that a Global Strategic Business Report breaks down the market by type, distribution channel and country, and provides profiles of many of major companies. Among those profiled are several corporations from the promotional products industry, including BIC Group, A.T. Cross, Pilot Corporation and Pentel Company.
Writing instruments are one of the largest segments in the $16.5 billion promotional products industry. Pen and pencil sales account for over 8 percent of all industry sales in the U.S. according to PPAI, accounted for roughly $1.5 billion in 2010.
Global Industry Analysts notes that writing instrument purchasing trends are changing both domestically and internationally. While local supply stores have traditionally been the most common source of pen and pencil purchases, sales have shifted over the last 20 years as more businesses purchase writing instruments with their corporate logo. The banner pen has allowed businesses to advertise their company with a larger imprint area than the traditional pen. To learn more about the banner pen and writing instruments, please contact Joe boccelli at 1.888.658.2418 or http://www.promology101.com