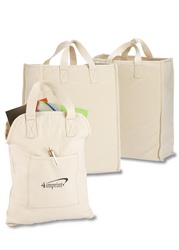 said Sara McKone, merchandising manager, 4imprint.
OSHKOSH, Wis. (PRWEB) December 11, 2008
Reusable grocery bags are one example of the transformation from eco-friendly to eco-functional. Unlike a previous generation of reusable totes that were so small consumers needed several to carry even a small amount of groceries, today's reusable tote bags are designed for real life.
Made from up to 20 percent post-industrial waste, the Big Thunder Tote features huge, 10" side panels and a spacious carrying compartment that is useful for toting everything from groceries to file folders. Looking for something even bigger? The Reusable Polypropylene Grocery Cart Bags fit neatly into grocery carts and can be used to carry up to 40 pounds of purchases. These handy shopping totes are also available in cotton. The Eco Design Organic Grocery Tote measures 14 x 14" and features 7" side panels. The tote is made of organic cotton, raised without chemicals or pesticides. Perfect for a day at the mall or trip to the grocery store, the Organic Market Bag Set is made from organic cotton and includes two standard-size shopping bags and a small storage tote. "Useful designs and budget-friendly prices are making eco-friendly bags extremely popular," said Sara McKone, merchandising manager, 4imprint. "Bags made from recycled plastic bottles, for example, are cost-effective and make popular giveaways and incentives."
Innovations in functionality are also being seen in other eco-friendly promotional products. In addition to bags, apparel, office supplies, home products and other eco-conscious imprinted items made from recycled, organic and biodegradable materials can be found in the 4imprint Eco-Friendly Promos Store at http://www.4imprint.com/products/viewmall.aspx?mid=705.
About 4imprint
4imprint is part of 4imprint Group, Plc, a publicly traded company on the London Stock Exchange, and serves more than 100,000 businesses with its innovative promotional products. For more information, visit http://www.4imprint.com in the United States, http://www.4imprint.co.uk in the United Kingdom and http://www.4imprint.ca in Canada.
MULTIMEDIA GALLERY http://www.businesswire.com/cgi-bin/mmg.cgi?eid=5851988