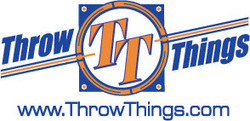 Small businesses are a critical part of our economy's success
Cleveland, OH (PRWEB) October 23, 2008
ThrowThings.com, a unique company with offerings ranging from promotional products to ventriloquist dummies to fake vomit, has been named a winner of the Ten Under 10 award. The award was presented by the Council of Smaller Enterprises (COSE). Winners were honored at an awards ceremony and reception capping the Small Business Conference held at Cleveland's International Exposition Center.
Built on a unique business model, ThrowThings.com combines a broad based concept (ThrowThings) and a range of departments. These departments relate to the overall concept by not necessarily to each other. Toys, games and sporting goods are found in the Things To Throw department, ventriloquist dummies, puppets and marionettes are under Throw Your Voice, customized promotional products are in Throw Your Name Around and party supplies are in Throw A Party. These items wouldn't typically be in an expected product mix but combine in a perfectly logical blend at ThrowThings.com. Other departments include Throw Backs, ThrowThings Things, and, of course, Throw Up. You can even "Throw Your Money Away. (Spend $3.50 plus s/h and they send a certificate showing you threw your money away.)
A visit to ThrowThings.com brings a smile but this business is no joke. The company is the number one seller of ventriloquist dummies in the world. It provides dummies for national television shows, commercials and major motion pictures and worked on several promotions with the 2007 Tony Award winning Broadway production of 'Jay Johnson: The Two and Only.' Its promotional products clients range from small companies and individuals to many Fortune 100 companies. It even provided promotional products for both presidential candidates -- Santos and Vinick on television's The West Wing.
In addition to receiving the Ten Under 10 Award, ThrowThings.com has within the past year been named as a Weatherhead 100 Upstart by The Weatherhead School of Management at Case Western Reserve University, was a recipient of the NEO Success Award presented by Inside Business Magazine, and was selected by the American Business Awards (The Stevies) as one of the most innovative companies in the country (finalist).
Each year, COSE's Ten Under 10 recognizes the top companies with ten or fewer employees for their best practices in key areas. "Small businesses are a critical part of our economy's success," said Steve Millard, COSE's president and executive director. "The Ten Under 10 Awards are designed to provide recognition for the great work of our region's smaller businesses."
"We are honored to receive the Ten Under 10 Award" said Marc Resnik, owner of ThrowThings.com. "Judging for this award is based on best practices in areas that we really focus on, so to be recognized for excelling is especially gratifying."
About ThrowThings.com:
Ravenna, OH based ThrowThings.com offers an unusual assortment of products. Its various departments include Throw Your Name Around with custom imprinted promotional products/advertising specialties, Throw Your Voice with ventriloquist dummies and marionettes, Things To Throw with toys, sports equipment and games, Throw It On The Barbie with portable grills, Throw Backs, Throw Up, Throw Your Money Away, ThrowThings Things, and whatever else they can throw in. The company, which was established in 2001, is a leading provider of promotional products, is the world's number one seller of ventriloquist dummies, and regularly expands its unusual assortment of products.
# # #