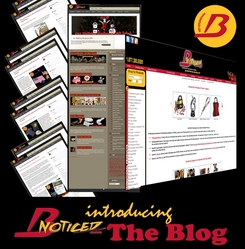 Customers want ideas to help them stand out from their competitors and BNoticed... innovative products, unique imprint techniques and creative uses
San Diego, CA (PRWEB) October 22, 2010
BNoticed, a full service promotional products distributor of logo products and customized clothing, announces the launch of a new blog website designed to provide insight, ideas and tips for the use of promotional products and apparel for branding, promotions, fundraising, outreach and much more.
The new promotional products blog utilizes a magazine format that enables users to choose from a wealth of rich content and quickly zero in on the material of most interest to them. Using drop down menus, side menus or a keyword cloud, site visitors can easily find the articles most relevant to their needs. The blog is packed with pictures of some of the latest and most innovative promotional products and customizable clothing along with unique ideas for their use. In addition, links are provided for most items so that visitors can get additional information about the featured products such as available colors, imprint sizes and options as well as basic pricing information.
"As a distributor of promotional products, one of the most common requests that we hear from clients is that they want something unique to put their logo on." says Gregg Taft, owner of BNoticed. "Customers want ideas to help them stand out from their competitors and BNoticed... innovative products, unique imprint techniques and creative approaches. The new blog site provides ideas to do just that and to serve as inspiration to visitors to help them find the perfect product to meet their needs, whether it's to build a brand, promote a cause or event, outreach to their community, fundraise or simply to show appreciation."
Among the articles already included on BNoticed: The Blog are:

101 Holiday Business Gift Ideas
School Fundraising Ideas
Top 10 Business Calendars for 2011
Innovative Invitation Ideas
Motivating Employees with Award, Rewards and Incentives
Non-Profit Fundraising Ideas
Company Picnic Ideas To Show Employees You Appreciate Them
Tradeshow Promotional Ideas
Top 10 Eco-Friendly Promotional Products
"The new blog is updated routinely with timely information, creative ideas and the latest product innovations" says Taft. "We're building on the quality content from our prior blog like the popular Company Picnic Ideas article series which has been downloaded thousands of times since being published last March. In fact, a driving force behind the blog's new magazine format is to make it easier for visitors to easily locate the information they need from an ever increasing wealth of content. "
BNoticed: The Blog is accessible from BNoticed's main website at http://www.bnoticed.com via the blog icon link. The blog provides expanded content including detailed insight, ideas, tips and information about how the promotional products and logo clothing available at BNoticed.com can be used to meet a wide range of needs beyond branding and promotion to include outreach, fundraising,event planning, and much more. The blog may also be accessed directly at http://www.bnoticedblog.com.
About BNoticed
BNoticed is a full service distributor of innovative and lasting and logo clothing. The company serves a wide range of businesses, organizations, non-profit and individuals to meet their promotional product needs from branding, marketing and recognition to outreach, fundraising and fun. Based in San Diego, California, BNoticed provides products and services to customers throughout the United States and Canada.
###