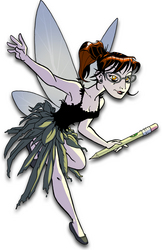 Our 10 percent discount presents a timely opportunity to utilize Revision Fairy to benefit your business
Los Angeles, CA (PRWEB) April 2, 2009
Proofreading can drop on a business's list of priorities amidst tight budgets and staff cuts during a struggling economy. Don't let the quality of a document, or your company image, suffer; have Revision Fairy catch your mistakes.
"Our 10 percent discount presents a timely opportunity to utilize Revision Fairy to benefit your business," said Founder/Editor Stefanie Flaxman. "You don't need to employ a full-time proofreader or waste time looking for a freelancer to ensure that your writing is clear, effective, and flawless. Revision Fairy is a one-stop shop -- a reliable, straightforward, and accurate service."
Revision Fairy catches errors and improves the clarity of your writing. Poor grammar, inconsistencies, and confusing word choice in written text can harm your business's image and damage your personal reputation. These inaccuracies are easily avoided by having a fresh set of experienced eyes thoroughly review your documents.
Services range from unmarked corrections to in-depth editing and analysis with highlighted changes. RevisionFairy.com is the only website that offers 24-hour turnaround on all editing options for documents up to 10,000 words. Advertising copy, newsletters, white papers, press kits…etc. -- if a document contains words, Revision Fairy will perfect it!
To receive 10 percent off every order placed through April 30, 2009, visit RevisionFairy.com today.
About Revision Fairy:
Revision Fairy is an accessible, easy-to-use and reliable proofreading and editing service that connects you to detail-oriented editor, Stefanie Flaxman. She combines efficiency and speed with personalized attention, meticulous concentration, and integrity. Flaxman is an award-winning copy editor with over 10 years experience revising multiple styles of writing.
Submit your document through RevisionFairy.com, and you are on your way to possessing perfectly polished text.
###