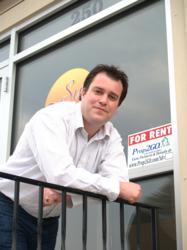 Maybe it's because you're separated from the business environment, or maybe it's because you feel that you're in a safe place and can take more risks, but it's where great ideas come from!
Saint John, NB (PRWEB) April 04, 2011
It wasn't too long ago that Jason Richard had an idea for a website. And like most IT start-ups, he secluded himself in his basement and started to write code. With the coffee percolator going continuously, he built Prop2Go, an online site that allowed people to add their apartments for rent or houses for sell. The idea was good and caught on quickly. Customers began paying small fees for the simplicity and convenience of listing property through his online tool. Before long, Prop2Go expanded to an office and even a few employees. "It was an exciting time," explains Jason, "Our customer base was rapidly increasing, and more and more people were using our website to list and search for properties."
But then, a new business model began to emerge – customers began expecting free property listing services. Companies such as Kijiji and Craigslist offered fewer services compared to Prop2Go, but unlike Prop2Go's business model, theirs were free. Naturally, consumers flocked to websites offering free services. As a result, these types of free classifieds were rapidly growing in numbers. There were thousands of similar sites, all giving their services away for free.
This shift in the online software field caused Jason to withdraw back into the comfort of his basement. He began brainstorming how Prop2Go would develop as a company to meet the changing needs and expectations of its customers. "It seemed like the logical place to go – this is where I created that first exciting idea," reminisces Jason, "It's where Prop2Go was born!" As Jason regrouped, he realized a strategic flaw in the "give it away for free" business model. There were just too many websites offering similar, free services to make any real impact on a company's business value. "It's difficult to make money when it's free and everybody is doing something similar!" describes the entrepreneur. Since property owners were now using multiple classified listing sites to advertise properties, it was getting harder and harder for those looking for properties to actually find them! This is when the "ah-ha" light-bulb lit up!
Why not provide one central location that users can access to search for all property listings? This simple idea would not only change the direction of Prop2Go, but would also change how users searched for property online. Jason's revolutionary idea meant that all types of property listings – including apartments for rent, homes for sale, commercial properties for sale, and homes for rent – would be accessible through Prop2Go's website and software. This would allow users to find any property listing, regardless of where it was posted online, all in one place, thus, eliminating the need to visit and search multiple websites. Jason had essentially created a search engine very specific to a certain industry.
After several months of prototyping and many upgrades to the software, Prop2Go released their new site at the end of 2010. The results have been impressive. A mere 4 months after its launch, the Prop2Go site has more than 85,000 visitors per month. What makes this even more remarkable is that it was accomplished without any advertising or marketing dollars. Users are spending, on average, nearly 4 minutes on Prop2Go. This suggests users are not only visiting, but also using Prop2Go services. It's quick, it's convenient, and it fulfills a need!
Even as Prop2Go plans for global expansion of their software, Jason still spends time in his basement apartment from time to time. "Maybe it's because you're separated from the business environment, or maybe it's because you feel that you're in a safe place and can take more risks, but it's where great ideas come from!"
# # #