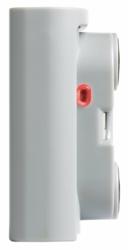 Installed this last week and grilled this weekend. Simple to install and it does the job! Played the tone, and I knew I had enough time to finish those steaks!
Princeton, New Jersey (PRWEB) May 24, 2013
In addition to the specially made custom first prize, Product Innovation Limited has announced that there will be 3 second prizes: Each one winning a standard Propane GasGenie.
The Propane GasGenie is an electronic propane tank level indicator that simply clips magnetically to the lower part of the propane tank. Using patented software it detects when the gas is switched on and the level is starting to get low. And it warns the user in plenty of time to finish grilling by playing a short, warble like, tune and flashing LED lights. The manufacturers claim that it is the only product that actively warns you in plenty of time to finish cooking.
This unique propane level indicator was invented by Product Innovation Limited, a British New Product Development Company, after hearing about the problem from a US technical salesman. In fact there are more than 43 million propane grills in the US and most people who BBQ will have experienced the frustration of running out of propane whilst cooking. Product Innovation Ltd is so sure of the product that they have now published independent test data showing how well it works.
Typically when the warning first sounds there is between one and two hours grilling time left. So there is no rush to replace or refill the tank. This can be done at a time of the user's choosing. The Company contrasts this with the popular pressure gauge types which typically give just a few minutes' notice before the gas runs out.
The first prize is a customized Propane GasGenie that will play a tune chosen by the winner. This tune will then be encoded into software by Peter Frank, Managing Director of Product Innovation Ltd, and programmed into the winner's prize unit. The Company have promised that they will never make another one like it. It will be unique.
The quantity and quality of the entrants so impressed Product Innovation Ltd that it decided to reward their efforts by giving away 3 more standard units. The first prize was won by a Louisiana resident who lives near Baton Rouge and the other prizes by residents of Alabama, Utah and Missouri. The winner has chosen the first few bars of the chorus of Glory, Glory Hallelujah as the customized tune the alarm will play. All the winners have been contacted and will receive their prize in the next few days.
The Propane GasGenie is available on Amazon.
About Product Innovation Limited
Product Innovation Ltd is an established New Product Development consultancy specialising in inventing and developing new products for manufacturing companies. The company has been in business for more than 25 years and in that time has been involved in a wide range of new products many of which have worldwide patents. Visit http://www.productinnovation.com for additional information about Product Innovation Limited. More information about Propane GasGenie can be found at the following site. http://www.propanegasgenie.com.