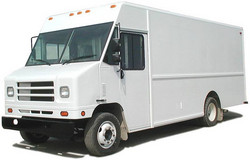 This program will give fleet managers and company executives tremendous insights into the future of fueling this industry's truck fleets
Washington, DC (Vocus) September 27, 2010
On September 30, the Propane Education & Research Council (PERC) and the other members of the Alternative Fuel Trade Alliance will train fleet managers on alternative fuel technologies at conferences for textile service companies in Las Vegas. The textile services industry operates about 20,000 delivery trucks nationwide.
The training, made possible by a grant from the Energy Department, covers alternative fuel quality, infrastructure, available vehicles, safety, and environmental impacts. The workshop's goal is to inform fleet managers and company executives about new technology that can reduce pollution and the nation's dependence on imported oil.
"This program will give fleet managers and company executives tremendous insights into the future of fueling this industry's truck fleets," said Charlie Brigham, director of membership for the Textile Rental Services Association of America (TRSA). "With the cost of fuel as volatile as it's been in recent years and the increasing pressure from EPA to control emissions, everyone will want to attend this session, no question about it."
The TRSA Healthcare and Tech/Plant Conferences will convene September 28-30 at Caesars Palace in Las Vegas.
"In addition to emitting fewer harmful emission, today's fleet managers are turning to propane-fueled vehicles for their reliability, safety, performance, and robust infrastructure," said Brian Feehan, vice president of PERC. "More alternative fuel vehicles on the road mean less dependence on imported oil and a cleaner environment."
The Alternative Fuel Trade Alliance consists of PERC, the Renewable Fuels Association, the National Biodiesel Board, and the Clean Vehicle Education Foundation, representing propane, ethanol, biodiesel, and compressed natural gas.
To learn more about the alternative fuel workshops or to see archived presentations, visit http://www.altfuelsalliance.org. For more information on the conference, visit http://www.trsa.org. For more information on PERC and its programs, visit http://www.autogasusa.org.
The Propane Education & Research Council was authorized by the U.S. Congress with the passage of Public Law 104-284, the Propane Education & Research Act (PERA), signed into law on October 11, 1996.  The mission of the Propane Education & Research Council is to promote the safe, efficient use of odorized propane gas as a preferred energy source.
# # #