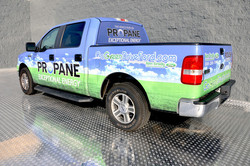 Fleet managers eager to respond to customers' growing interest in working with businesses that offer sustainable solutions will see the benefits of propane autogas and other alternative-fuel vehicles
Washington (Vocus) November 12, 2010
The Propane Education & Research Council (PERC) and the other members of the Alternative Fuels Trade Alliance continue their nationwide training program on alternative fuels at a workshop for fleet managers November 16 in Arlington, Texas.
This free workshop, held in the North Central Texas Council of Governments building, 616 Six Flags Drive, is the eighth in a nationwide series of 14 training seminars made possible by a $1.6 million grant from the Energy Department. The workshops address alternative fuel quality, infrastructure, available vehicles, safety, the latest technologies, and the environmental impact of propane autogas, ethanol, biodiesel, and compressed natural gas.
Fleet managers will have the opportunity to get inside a 2010 Roush Ford F-250 propane autogas-fueled truck, as well as other vehicles that run on alternative fuels.
"Fleet managers eager to respond to customers' growing interest in working with businesses that offer sustainable solutions will see the benefits of propane autogas and other alternative-fuel vehicles," said Brian Feehan, vice president of PERC. "Choosing vehicles that run on alternative fuels results in fewer harmful emissions and less reliance on imported oil."
The Alternative Fuels Trade Alliance comprises PERC, the Renewable Fuels Association, the National Biodiesel Foundation, and the Clean Vehicle Education Foundation.
Each of the full-day collaborative workshops involves a site in the Energy Department's Clean Cities program, which uses local coalitions to promote the use of alternative fuels, such as propane autogas. The Arlington workshop will be hosted by the Dallas-Fort Worth Clean Cities. Previous workshops have been held in Indianapolis, Chantilly, Va., Hoover, Ala., Casa Grande, Ariz., Denver, and Albany, N.Y. Workshop sites for 2011 include San Diego, Seattle, Orlando, Fla., and Kansas City, Mo.
Vehicles and equipment fueled by propane autogas, the most widely used alternative fuel, include trucks, vans, school buses, shuttles, forklifts, and commercial mowers.
To register for the Arlington workshop or another upcoming workshop or to view an archived webcast, visit http://www.altfuelsalliance.org.
PERC promotes the safe and efficient use of propane autogas as a transportation fuel for its cost-effectiveness, efficiency and productivity, reliability, portability, and environmental friendliness. For more information on PERC and its programs, visit http://www.autogasusa.org.
# # #