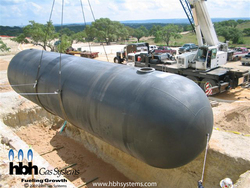 Austin, TX (PRWEB) January 3, 2008
HBH Gas Systems and Ferrellgas Partners, L.P. have announced the planned installation of a Central LP Gas System at the Hornsby Glen development in Austin, Texas. The propane gas system will fuel the 108-acre community with versatile and economical propane from a centralized tank.
HBH Gas Systems has a strategic partnership with Ferrellgas, one of the nation's largest propane companies. Together, they provide developments located off of the natural gas grid with environmentally friendly gas delivered from centralized propane tanks. Ferrellgas will own and operate the completed central gas system at Hornsby Glen while HBH Gas Systems will oversee the design and implementation of the gas system. Ferrellgas and HBH Gas Systems will make all of the necessary provisions for permanent underground metered propane gas service for this sustainable and environmentally-responsible community.
The developer of Hornsby Glen, Main Street Homes, is Austin's largest locally owned home-building company. Hornsby Glen will include 538 single-family homes and the associated amenities at final buildout. The developer/homebuilder wanted the marketing advantages of dual-fuels with gas supplied and operated by a large, competent company that has demonstrated sufficient capacity to serve a development of this size. The HBH Gas Systems and Ferrellgas team has unsurpassed expertise in the implementation of central LP gas systems designed to serve off-grid developments.
Central LP Gas Systems allow developers to steer their off-grid developments lacking natural gas away from carbon-heavy electricity toward more sustainable development fueled by gas. These systems are highly economical saving homeowners about 50% on their heating bills compared to electric heating. Furthermore, a recent American Gas Association (AGA) study demonstrated that the majority of homeowners demand the luxury of dual fuels and gas for their heating and cooking needs. Hornsby Glen homeowners will enjoy the peace-of-mind associated with using an alternative green fuel as recognized by the Energy Policy Act and the Clean Air Act. In fact, each home fueled by an HBH central gas system instead of electricity effectively offsets the annual carbon emissions from one average vehicle.
The first phase of building at Hornsby Glen will consist of 120 lots. The Central Propane System will expand as the development continues to grow past its first phase. The community's Central LP Gas System will provide domestically produced gas to each individual home from a single centralized propane tank. The fuel will be delivered, metered, billed, and consumed in a manner virtually identical to natural gas. Central LP Gas Systems from HBH Gas Systems allow for the implementation of high efficiency gas appliances in place of grid-hogging, carbon-heavy, low-efficiency electric appliances.
HBH Gas Systems specializes in the marketing, design, and implementation of fully-engineered Central Gas Distribution Systems worldwide. To obtain more information about this project or HBH Gas Systems visit http://www.hbhsystems.com or contact Harris Baker at 512-306-0073 or info @ hbhsystems.com.
Ferrellgas Partners, L.P., through its operating partnership. Ferrellgas, L.P., serves more than one million customers in all 50 states, the District of Columbia and Puerto Rico. Ferrellgas employees indirectly own more than 20 million common units of the partnership through an employee stock ownership plan. More information about the partnership can be found online at http://www.ferrellgas.com.
For more information about Main Street homes, visit http://www.mainstreethomes.com.
###