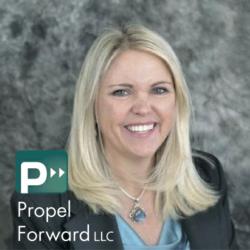 The greatest gift you could give your employees is to validate that how they spend the majority of their waking hours matters to you and to the company they have chosen to join
Chicago, IL (PRWEB) November 28, 2012
Employees get very discouraged and disengaged when what they do doesn't seem to matter to the executives, to others in the company or to their boss. Each employee wants to know he or she is making an impact. Regardless of level in the company, every person wants his or her presence and contribution to makes a difference. If you ever doubt this just look at an employee's face when a higher level manager thanks them for a specific outcome. One of the best gifts executives can give their employees is ensuring time and resources are spent on the right activities so that employees can experience this affect. The best way to achieve this is a robust strategic plan at all levels of the organization.
When a company doesn't have a robust strategic plan the company suffers. When companies that do have a strategic plan fail to ensure that every leader has a linked compelling vision for their department with linked strategies and success measures, employees suffer. Employees in departments without aligned strategic plans are at the mercy of their leader's best guess of what is important.
Unfortunately, strategic planning skills are often missing from the usual offerings of growth opportunities provided to leaders. This is surprising given the studies have shown that strategic thinking and planning skills are some of the top skills needed to be considered as a succession planning candidate.
When a leader lacks these skills, he or she has to use their own judgment in determining what is important. Often the manager defers to the urgent and non-urgent tactical requests. This might help solve some immediate problems but it may not help move the company closer to the vision. Soon the department they lead is viewed as a pair of hands and has lost its greater sense of purpose. Employees working in this department begin to lose their source of pride and get pulled in too many directions from the internal customers wanting something from them. Without vision and strategy there is no compass to make the call of what they should say yes to and what they should say no to. So the employees begin to believe they have to say yes to everything and become over worked. Unless someone takes the time to share how what they are doing links back to the company's success measures they are also left under appreciated.
A clearly linked department vision defines winning and every employee wants to be part of a winning team. Aligned strategies identify the roadmap and provide milestones to celebrate. Together these increase employee pride and engagement. The greatest gift you could give your employees is to validate that how they spend the majority of their waking hours matters to you and to the company they have chosen to join.
Propel Forward LLC provides strategic planning facilitation and skills to executives and leaders. Carlann Fergusson, owner of Propel Forward LLC has been leading executives and their teams through strategic planning since 1985. She has led strategic planning for both large and small companies including Intel Corporation and Florida Power, for state and federal governments and for non-profits.