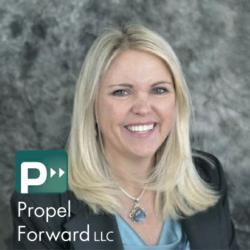 Chicago, IL (PRWEB) February 27, 2013
Every leader becomes a perfectionist at some point. Perhaps it's triggered by the added stress of a critical project, or a forthcoming project review with a detail oriented executive. However, when a leader has a tendency to continually operate in perfectionist mode it can cause problems for the leader, their direct reports and the company. Propel Forward LLC offers these three coaching tips to disrupt this pattern of behavior.
1) Start by recognizing the leader's good intent.
A perfectionist is only trying to be the very best they can be. There is no value in criticizing the leader for it. Their intent is not to drive others crazy. Telling them they are doing things wrong will only drive them further into trying to get everything correct. Chances are they are already battling self talk that tells them what they are doing isn't good enough, so they don't need help reinforcing this notion. Instead let them know you recognize their effort to provide the very best. Clarify that the attention to details and the desire to create high quality results are appreciated strengths, it's just the intensity with which they pursue these goals that needs adjusting.
2) Help the leader see the unintended consequences of their behavior.
Perfectionist leaders often haven't considered the message their perfectionism sends to those they work with. Help them see that if they hold themselves to this standard, those that report to them will believe that this expectation applies to them. Just like the leader who stays late sends a non-verbal message that others interpret as an expectation that one should stay late to be perceived as loyal or interested in advancement, the perfectionist sends a message to those that work with him or her to get their work perfect or suffer the consequences. Asking the leader if they've already seen any consequences of this unintended messaging may be helpful. Ask if direct reports are turning assignments in late and ask the leader if it could be because they fear the work will be evaluated as not good enough or they dread the extensive corrections that will follow.
3.) Ask the leader to assess risk versus time spent
Often perfectionists are so focused on getting all the details correct that they fail to consider that more time spent can cost more in resources and delayed time to money. In some cases the increase in quality warrants the extra time and effort but often it does not. Ask the leader to assess the consequences of letting a report, product or email go when it is adequate versus perfect. If innovative companies were obsessed with perfectionism new technology would never be launched. It is sometimes better to ensure it meets the minimum specifications and let your early adopters provide feedback on improvements. Likewise, a compelling report that leaves some minor questions unanswered that is delivered in a week may be better for the company than a comprehensive report that answers every possible question and takes a month to create. Have the leader meet with the end users of the report or product to define the needed quality instead of the perfectionist assuming the requirements based upon their own standards.
Raising the leader's awareness of their pattern of perfectionism it usually enough to create some positive shifts in behavior. To ensure lasting change, leaders often benefit from professional coaching to assist with further exploration and identifying appropriate replacement behaviors or approaches.
Propel Forward LLC provide consulting, coaching and workshops to improve a leader's ability to set a vision for their organization and increase their confidence to influence. Owner, Carlann Fergusson has over 25 years experience in corporate leadership. Her clients include Fortune 500 companies, privately held companies, family owned operations and non-profits. She can be reached at carlann(at)propelforward(dot)com or http://www.propelforward.com.