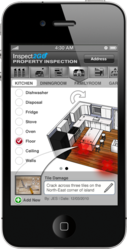 "save time and money by inspecting property with your mobile phone or tablet"
Los Angeles, CA (PRWEB) August 18, 2011
Inspect2GO (http://www.inspect2go.com/ ) has released ground-breaking technology for inspecting rental properties, apartment buildings, construction sites, commercial buildings, homes, etc. Instead of carrying clipboard, paper, and pen, you can now carry a mobile device such as an iPad, iPhone or Android tablet and generate a full report in the field. The apps can be custom built to meet each new client's unique needs.
See http://www.inspect2go.com/inspection/property/
The property inspection apps include MIMO (move-in, move-out) inspection checklists, building code checklists, site surveys, safety code inspection reports and regulatory audits forms. Residential property inspection is conducted on homes, rental properties and apartment buildings. Commercial property inspection includes industrial buildings, large facilities and office buildings. Construction site inspection includes quality, building code and OSHA safety audit checklists. The inspection apps are designed for property management companies, developers, general contractors and home/building inspectors.
Custom property inspection applications include:
•Commercial property inspection
•Rental property and apartment building move-in, move-out checklists
•Residential property surveys and inspection reports
•Building code, site survey, safety, compliance, regulatory audit applications
•Apps for property management, home inspection and commercial building surveys
•Field Reports – Sign and send PDF inspection reports onsite, directly from iPhone, iPad or Android
•Database – Property inspection software, send inspection forms and photos to an SQL database for server side reporting
•Used by city building inspectors, contractors, commercial property/home inspectors and property managers
•Insurance assessments, appraisals and cost estimates
•Construction site inspection
•Checklists – Pass/fail, Radio button, fill-in-the-blank
•Forms/Reports – Storage and wireless delivery of file to server
•Legal – Stylus signature and initialization, markup on-screen
•Photographs – Digital image capture to worksheet/report
About Inspect2Go
Inspect2Go is a mobile application development company based in Southern California. The firm's technology includes inspection checklist mobile apps with signature, photo, markup, custom reporting, pdf email and database export functions. The checklist apps are compatible with Apple iOS (iPhone, iPad) or Android.
See http://www.inspect2go.com/inspection/property
###