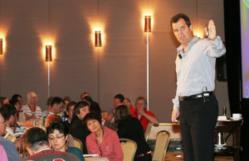 I started looking for a better way and that's when I found the Creative Real Estate strategies
(PRWEB) December 06, 2012
Most new businesses expect to struggle for at least the first few years before reaping profits. But acclaimed property investment strategies, Rick Otton, believes it doesn't always have to be so. In a just-released 'Creative Real Estate' podcast, Otton, together with some of his students, has revealed how his innovative real estate transaction methods have allowed them to achieve their new business goals.
One of Mr Otton's key strategies is for investors to act as the 'middle men' between renters eager to break into property ownership and sellers eager to sell their house in a challenging economic environment.
Under what is often called a rent-to-lease scenario, renters pay wannabe sellers an agreed monthly amount which is put towards a house deposit. After a specified period, the renters have the option to buy the house.
"I don't know any other business where you can say, 'You know what? I have been making money in this business from day one'," Otton said.
Creating a win-win situation for all
One of his students, Greg, explained in the podcast how he had been negative gearing his properties for 15 years before he discovered the Creative Real Estate methods.
"Negative gearing didn't work for me, as any money I did make got eaten up with capital gains taxes and the capital growth was a lot slower than what I had imagined," he said.
"I was pouring money in, year after year, but not getting anywhere. I started looking for a better way and that's when I found the Creative Real Estate strategies. They really struck a chord in me on how I could achieve win-win situations and create more time and financial freedom for myself."
Mr Otton believes that making the transition from a 'nine to five' job to his methods required a radical shift in thinking. But those with the courage and mental stamina to do so would reap tremendous rewards.
"I always say, 'If you want to do anything well, live it. It doesn't matter what it is. Just live it. Just drown yourself in it, then it becomes part of you'," said Mr Otton.
Tim, another student, described how he made the leap from his secure banking position to focus on Creative Real Estate instead.
"My first year, I made $110 grand from doing Rick's strategies just one day a week, whereas in my job I was working five days a week for $43 grand a year," he said.
The free full podcast can be heard on iTunes at Creative Real Estate
About Rick Otton
For over 30 years, Rick Otton has been regarded as an innovator in the property investment industry, particularly in Australia, the US and the UK.
He is the founder and CEO of We Buy Houses, a leading property enterprise. Otton has taught thousands of people, particularly the self-employed and those without a hefty deposit, how to invest in property without banks, debt or risk.
He has been featured in a variety of television programs and magazines, including Today Tonight, A Current Affair, Australian Property Investor and more.
More information at CreativeRealEstate.com.au