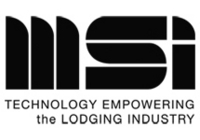 With the release of our GCCI interface, MSI is able to further demonstrate our continued commitment to delivering Best Western properties with one of the industry's most comprehensive product suite and service standards
Phoenix, AZ (PRWEB) July 31, 2008
With over 550 Best Western hotels in its portfolio, 350 of which are currently maximizing the value added benefits of the Best Western CRS two-way interface, MSI (Multi-Systems, Inc.) continues to expand its property management software functionality to empower the world's largest hotel association of branded properties.
Continually enhancing its software and working closely with Best Western International, MSI has implemented the first hotel property management system interface to support Best Western's Gold Crown Club International (GCCI) guest loyalty program. With this release, MSI gives Best Western properties, running the NovaPlus PMS, the ability to efficiently perform GCCI lookups and enrollments in the PMS. This property management software enhancement is currently being rolled out and firmly establishes MSI as providing the most comprehensive interface for Best Western International's internal systems.
"With the release of our GCCI interface, MSI is able to further demonstrate our continued commitment to delivering Best Western properties with one of the industry's most comprehensive product suite and service standards," stated Tim Tiller, MSW and president of MSI. "We take our relationships seriously; if there is a way we can improve how a property does business, we listen."
NovaPlus users will now be able to enroll new members into GCCI, create and/or modify profiles, rates, room reservations, and more. This enhancement immediately allows access to guest membership benefits, eliminating several days of membership set-up in non-GCCI interfaced properties.
"Best Western's loyalty program has enjoyed 20 years of membership success, and as the world's largest hotel chain, it is important we continue on our path of guest satisfaction," said Scott Gibson, CIO and SVP of Distribution, Best Western International. "MSI has been instrumental in working with our internal development teams to allow Best Western properties the ability to reach new technological heights."
"Having the ability to retrieve and create members in one system, as opposed to having to enter and re-enter the same information in multiple solutions, has increased our associates efficiency and ability to serve our guests," commented Lonnie Lillie - GM, Best Western Arroyo Roble Hotel in Sedona, Arizona.
This interface enhancement is currently available on MSI's NovaPlus PMS. Functionality on the property management software company's full-service WinPM solution is currently undergoing final testing and is scheduled for release in the second half of 2008. The enhancement will provide Best Western properties and guests with the same additional benefits that are offered on NovaPlus users today. To find out more about MSI and its property management software products, please visit http://www.msisolutions.com.
About Multi-Systems, Inc.
Serving the hospitality industry since 1990, MSI (Multi-Systems, Inc.) is a leading supplier of hotel technology and property management software solutions. With an installed customer base of nearly 3,000 hotels and resorts throughout North America, MSI is one of the largest privately-held providers of fully-integrated property management, sales, marketing and catering, point of sale, web booking, and centralized corporate services. MSI specializes in "total system solutions" for management companies and hotel chains by providing central reservation and property system integration. For more information on MSI, visit http://www.msisolutions.com.
About Best Western International
Best Western International is The World's Largest Hotel Chain®, providing marketing, reservations and operational support to over 4,000 independently owned and operated member hotels in 80 countries and territories worldwide. An industry pioneer since 1946, Best Western has grown into an iconic brand that hosts approximately 400,000 worldwide guests each night. Best Western's diverse property portfolio, its greatest strength, stems from a business model designed to give owners maximum flexibility to address market-specific needs. Equally committed to the business and leisure traveler, Best Western recently embarked on a five-year mission to lead the hotel industry in customer care. Since 2004, Best Western has served as the Official Hotel of NASCAR®. For more information or to make a reservation, please visit http://www.bestwestern.com.
###