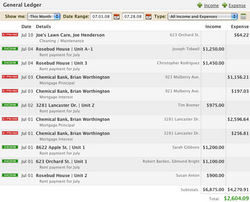 The trend in software development over the past few years has been toward elegant web-based applications that provide important functionality while maintaining simple, user-friendly interfaces. Propertize and Vowcher bring this trend to the rental property industry
Chicago, IL (PRWEB) August 5, 2008
y925, LLC has officially launched a set of Internet services designed to simplify managing rental property. Propertize provides individual rental owners simplified income and expense tracking and secure access to important rental data from anywhere. Vowcher accelerates rent collections by sending monthly invoices to tenants a few days before the rent is due.
"The trend in software development over the past few years has been toward elegant web-based applications that provide important functionality while maintaining simple, user-friendly interfaces. Propertize and Vowcher bring this trend to the rental property industry," explained Brett Yates, President of y925.
He observes that today's volatile real estate market is changing the rental industry in several significant ways.

Investors are taking advantage of foreclosures and other conditions
New investors are entering the industry at even younger ages
Properties are rented for longer than expected as the market recovers
Many rental owners hold full-time jobs and need access to data at work
All these factors combine to prompt rental owners to use the Web for help managing their rentals.
Yates observes that a key component to effective property management and a main feature of Propertize is the tracking of monthly rental income and expenses. "Entering a rent payment is as simple as choosing a tenant's name or unit. Propertize will even enter recurring income and expenses to your ledger automatically," he said.
Tracking income and expenses with Propertize is especially useful during tax time. Tallying up income and expenses can be time-consuming. The tax report in Propertize provides an aggregated list of all ledger entries for the year, organized by categories from the Schedule E tax form every individual rental owner is required to complete.
Vowcher, a stand-alone product fully integrated with Propertize, sends monthly invoices to tenants via email or postal mail. Invoices are sent to arrive a few days before the rent is due, thus increasing timely rent collections.
Propertize plans start at just $49.99 for the year. For more on Propertize, visit http://www.getpropertize.com. For more on Vowcher, visit http://www.vowcher.com.
Contact: Brett Yates via email brett @ y925.net or via phone 1-866-717-7440 ext. 3
###