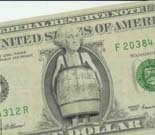 Paying taxes has become difficult for a lot of homeowners, and the economy hasn't shown any signs of full recovery.
Austin, TX (PRWEB) March 17, 2012
According to an article from the Absolute Wealth website, property tax lien investing has become a lucrative and dependable source of steady returns, enticing many to seek as much information and guidance as they can possibly get their hands on.
The Independent Wealth Alliance and its report entitled "Double Guaranteed Returns: How to Earn Safe 14% Returns Like Clockwork" are providing that information in a clear, easy-to-understand digital document that will lead anyone willing to read it down the path of financial success.
The economy has weakened, the U.S. dollar is in poor shape, and retirement plans have long-since dried up, said the article. The breaks so many investors have been waiting for have yet to arrive, and when they do, it's often hard to be in on the potential before it loses its luster.
But thanks to the rough housing market and the devaluing of homes, the opportunity to invest in real estate tax liens has presented itself, and has become one of the most reliable financial moves available.
Paying taxes has become difficult for a lot of homeowners, and the economy hasn't shown any signs of full recovery. Since tax payments aren't happening as frequently as they should, home owners are facing foreclosures at a high rate.
One of the most important parts of tax lien investing, and a point the report is sure to drive home, is the umbrella idea of direct hard money lending. Also called private money lending, this type of investment involves some implications that need to be considered, and the report explains the process of securing and ensuring financial confidence, stated the article.
With direct hard money, the lender is a private individual rather than a lending institution, creating some delicate ramifications that do leave room for mistakes. The article suggested making sure those don't happen by learning as much vital information as possible about real estate tax lien investing.
The Independent Wealth Alliance is Absolute Wealth's membership program, and provides advice and information on investments with exceptional returns.
To make those returns a reality and get informed about property tax lien investing, the article recommended the Special Report "Guaranteed Double Returns." Get a copy of the report by joining the Independent Wealth Alliance and gaining access to its informational resources.