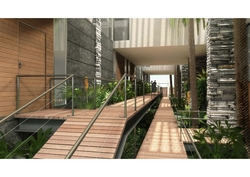 I am delighted Sunray Village has received this much-deserved recognition
Vilamoura, Portugal (PRWEB) July 19, 2008
Atlantic Estates, the exclusive property agent for Sunray Village, proudly announces the development's recognition by European Property Awards in association with CNBC Television and SIMA in the categories of 2008 Best European Development and 2008 Best Architecture.
Sunray Village, located just outside of Almancil in the "Golden Triangle" of the Algarve, is a modern new development comprised of 52 two- and three-bedroom townhouses and villas. Each home enjoys a private garden, multi-use room, garage, and the truly unique feature of private pool or Jacuzzi. The development is currently under construction with completion planned for late 2009. Presales are underway now.
The distinctive design no doubt convinced the award judges that Sunray Village is both unique and accomplished. Noted Vilamoura-based architect Vasco Vieira of Arqui+ blends traditional Portuguese materials of stone and wood with modern elements of glass and large glazed surfaces to create large open interiors flooded with light. Developers of the project are Sunray Villas of Lisbon.
"I am delighted Sunray Village has received this much-deserved recognition," says Artur Simes, managing director of Atlantic Estates. "I have the utmost respect for Vasco Vieira and Sunray Villas. I am proud to be associated with this extraordinary effort in creating a modern new living environment in the heart of the Algarve."
Greg Boegner, marketing executive for Atlantic Estates adds, "This award is not only a recommendation by our peers that Sunray Village is a fine development, but it is also a significant recognition that Portugal is a leader in innovative style and modern living. This will be a key message in our efforts to promote the development to buyers looking for something different."
The awards will be presented at a glittering gala dinner to be held at the Sheraton Park Lane Hotel in London on 27th September.
Entries were judged by a panel of professionals whose collective knowledge of the property industry is second to none and unsurpassed by any other property awards. Chaired by Eric Pickles, British Shadow Secretary of State, this year's judges included Helen Shield, editor-in-chief of International Homes magazine; Peter Bolton King, chief executive of the National Association of Estate Agents; Phil Spencer, property expert and presenter of Channel 4's Location and Relocation TV shows; Imtiaz Farookhi, chief executive of the National House Building Council; Christopher Hall, past president National Association of Estate Agents; Thijis Stoffer, International Consortium of Real Estate Agents Association (ICREA); Alejandro Escurdero, SIMA; Kirkor Ajderhanyan, French Real Estate Federation (FNAIM); Graham Norwood of the Daily Mail; David Hoppit, property writer; Jill Keene, editor of International Homes magazine; Diana Yakely, chairman British Interior Design Association; and Tad Zurlinden, Association of Relocation Professionals.
About Atlantic Estates
Atlantic Estates is celebrating its 5th year providing professional, personalized service to those selling and buying prestige properties along the coasts of Portugal. Atlantic Estates is headquartered in Vilamoura, with offices in Cascais and Óbidos. Through arrangements with select international agents, the company's client base extends to the U.K., Ireland, the Netherlands, Germany, Denmark and Russia. Its strategy of innovation, exclusivity, technology and service positions the company for another five years of property investment success.
http://www.atlantic-estates.com
http://www.sunrayvillage.com
http://www.propertyawards.net
# # #