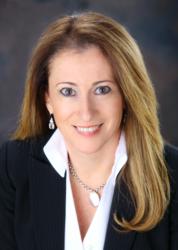 Naples, FL (PRWEB) June 07, 2013
Geri F. Armalavage, MAI, CBA, CMEA, senior managing director of Valbridge Property Advisors | Armalavage Valuation LLC, has obtained the CBA (Certified Business Appraiser) designation from the Institute of Business Appraisers. She was previously awarded the MAI from the Appraisal Institute, making her only one of seven people and the only woman in the U.S. to hold both prestigious designations*.
Geri Armalavage and her husband Richard L. Armalavage, MAI founded Armalavage Valuation in 1989. The firm recently joined forces with 41 other appraisal firms to form Valbridge Property Advisors, a national organization with headquarters in Naples that provides independent valuation and advisory services to local, regional and national clients. Valbridge ranks among the top three national commercial real estate valuation and advisory services firms, with 145 MAIs, 59 office locations and 600 staff across the U.S.
With more than 26 years experience in her field, Geri holds a bachelor degree with double major in Finance and Real Estate Analysis from the University of Connecticut. She has expertise in all facets of real estate and business valuation, expert witness court testimony, appraisal review, consulting, and has served on the Appraisal Institute's Experience Review Committee. Geri also provides extensive market and feasibility studies for developers and lenders and is a state-certified General Appraiser and Real Estate Broker. She also holds a CMEA designation through the NEBB Institute which qualifies her to appraise machinery and equipment. She serves as chairman of the board of Valbridge Property Advisors, Inc.
(*Based on data from the Appraisal Institute and the Institute of Business Appraisers)
About Valbridge Property Advisors
Valbridge Property Advisors, based in Naples, Fla., is one of the largest commercial property valuation and advisory services firms in the U.S., with 145 MAIs, 59 office locations and 600 staff. Valbridge provides independent appraisal services based on objective criteria, in-depth knowledge of local property markets and using widely accepted valuation techniques consistent with the highest industry standards of practice. Valbridge is a privately held company that is owned by its local practice leaders, not by a brokerage firm, investment firm or outside investors. Each Valbridge office is led by an appraiser who holds the MAI designation of the Appraisal Institute. The MAI designation signifies deep experience in the valuation and evaluation of commercial, industrial, residential and other types of properties. Additional information about Valbridge Property Advisors is available online at http://www.valbridge.com.
Valbridge Specializes in All Types of Property and Land
Valbridge serves local, regional, multi-market and national clients. The firm specializes in all types of property and land, including:

Office
Industrial
Retail
Apartments / multifamily / senior living
Lodging / hospitality / recreational
Other special-purpose properties
More about CERTIFIED BUSINESS APPRAISERS (CBA)
The Institute of Business Appraiser's professional accreditation program is one of the most important components of the Institute's professional development curriculum. Members who meet established criteria are awarded the prestigious professional designation of Certified Business Appraiser (CBA). This distinction, which denotes a level of competence attained only by the most accomplished business appraisers, grants its recipients special recognition and prestige among fellow appraisers, the courts, and throughout the business appraisal community.
More about MAI
The Appraisal Institute MAI membership designation is held by appraisers who are experienced in the valuation and evaluation of commercial, industrial, residential and other types of properties, and who advise clients on real estate investment decisions.