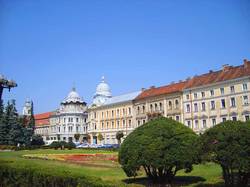 (PRWEB) July 24, 2008
Obelisk Property Investment is pleased to announce the launch of the Fontana Residence, located in one of the world's most dynamic investment destinations. Comprising 65 apartments, the Fontana Residence is set in one of Romania's most picturesque valleys in Cluj-Napoca - Romania's top investment spot and major employment centre. With an average price of around €115,000, the Fontana Residence offers investors the potential to earn a massive 242% return on investment over 5 years.
Romania may be one of the EU's youngest members, but just 18 months after EU accession, it is also one of its most promising. At a time when many countries are deep in the grips of the global credit crunch, Romania's GDP growth for the 1st quarter of 2008 reached a staggering 8.2%. Such remarkable growth is mainly due to a 32% hike in the construction industry as well as phenomenal confidence in Romania as an investment destination. Not for nothing have foreign investors earmarked Romania as one of the world's top countries for investment.
Romania's capital, Bucharest, has traditionally attracted the bulk of foreign investment, but now investors are turning their attention to Cluj-Napoca in the Transylvania region. Closer to Western Europe than Bucharest, Cluj-Napoca has recently attracted several accolades - ranked by Monocle magazine as the world's top investment destination, the city was also recommended by the Financial Times as Romania's hottest investment spot.
The reasons behind the praise are obvious: Cluj-Napoca houses over 200 software companies, earning the city the titles of Romania's technopolis, on track to be Eastern Europe's Silicon Valley. The long list of multinational names present in Cluj includes Coca-Cola, Emerson Electric, Debenhams, Marks and Spencers, Mercedes, Nokia, Novartis and Peugeot. Foreign investment in Cluj-Napoca has centred around the large Polus Center and the massive Tetron 3 Platform, which is set to create 20,000 jobs alone.
This abundance of employment opportunities has led to unprecedented demand for housing and a major boost to the rental market, already buoyant thanks to the 100,000-strong student population - Cluj-Napoca has no less than 10 universities. The local need for a highly-educated workforce and the excellent career opportunities offered by foreign companies mean many graduates stay in Cluj-Napoca after their studies, creating further demand for housing in the currently undersupplied property market.
Educated locals want western style housing with superior fittings and the Fontana Residence with its fitted kitchens and bathrooms and high quality construction fits this bill to perfection. On completion, the Fontana Residence apartments will therefore be ready to move into and if investors take advantage of the Obelisk Interiors furniture pack, they will also be ready to let. There is strong resale potential since locals prefer to buy completed properties rather than off plan.
Obelisk's Fontana Residence video offers investors the opportunity to watch an interview with the Mayor of Cluj-Napoca and view the Fontana Residence site location and a 3D project animation of the building. A comprehensive downloadable brochure detailing all aspects of this exceptional investment project is also available.
With a ready-made rental market, excellent resale potential, its superior quality and unique location, the Fontana Residence ticks all the boxes for investment potential. With just 65 apartments available, the only downside to this latest Obelisk project is that there may not be enough to go round.
Obelisk is currently offering the Fontana Residence project in Romania. For more information on this or other investment projects, contact Obelisk free on 0808 160 0670 (UK) or 1800 932 514 (IRE).
Visit our websites: http://www.obeliskinternational.com/ and http://www.fontanaresidence.com/
###